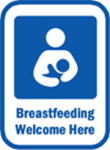 The Mets are in a pennant chase with the first place Washington Nationals coming into town. I know the last 36 hours have been rough between the blown trade and blown save, but the Mets are still in this thing . . . even if they do nothing else at the trade deadline.
If you have a little one, it is a great time to bring them to their first Mets game. The Mets will be throwing their stud muffins out there. Citi Field should be electric. This is a great opportunity to get your little one hooked on baseball. However, when you go to the ballpark with little ones, you have to be extra prepared.
When we brought my son to his first Mets game, my wife tasked me with one responsibility. I had to make sure there was a place to breastfeed our son. Now, if you have $10,000 laying around, you can always get a suite at Citi Field and have all the privacy you want. If you're like me, that's not an option, so I had to find a real solution. If it couldn't be done, we were not going to the game. I love the Mets, but I wasn't going to let my child starve for the better part of the day to watch the Mets get pummeled by the Nationals (they did lose 3-0 and it wasn't that close).
Now if you go the Mets' website, there is nothing there about breastfeeding at Citi Field. I was undeterred, and I did my research. I visited every mommy site there was. I was fairly confident I found the area where a mommy can breastfeed at Citi Field. We got tickets, and the whole family went to the game. Unfortunately, the mommy websites were very wrong.
I'm not going to link those websites because I do not want to embarass them because I'm sure they meant well. They did, however, leave us in a lurch. We had to find a solution and fast. We first went to the Nurses' Station as instructed by the mommy blogs. There was no room at the inn. First of all, they cannot permit you to breastfeed in there if the rooms are full. Secondly, they are not enthusiastic about allowing you back there because someone may need to come in and use the room. That means your child will have to stop feeding immediately, and your wife will be exposed to the public. Not exactly a recipe for marital bliss. Now, I know there are family restrooms. However, they are always locked, and you can never find someone who can open them. Jimmy Hoffa can be in there for all I know. That eliminated the family restrooms. We were at a loss, and we were on the verge of going home.
With seconds remaining before going home, we stopped at Fan Assistance. They were as baffled as we were about where in Citi Field you could breastfeed a child. To their credit, they were very helpful. They arranged for us to use a small ticket office in the Promenade section (not the ticket windows, it's in the opposite side) to breastfeed. An employee stood guard while my wife and I went in. This is not the ideal situation, but at least we were in private. It was an acceptable solution. This prevented my wife from having to feed our son in public, and it permitted us to stay for the game. It was also nice an employee stood outside making sure no one entered while we were in there.
So my recommendation to you is if your wife is breastfeeding, immediately go to Fan Assistance once you enter the ballpark. They will be very helpful. If not, please advise them that you were able to breastfeed in the ticket office in the Promenade section before, and you wish to go there again. It is the best of a series of bad choices.
As to the other issues a parent may have, Citi Field is accommodating for parents with infants. Each and every restroom has a changing table. They permit you to bring formula and bottles into the game. If you do choose to bring formula, I suggest you might want to get the travel pouches of formula as security might have a problem bringing white powder into the stadium. You can bring bottled water into the park to mix the formula. You can bring an umbrella stroller, which Fan Assistance will make you check with them.
When you stop by Fan Assistance to check in your stroller make sure you ask for a certificate for your child's first Mets game. If you do, make sure you write very carefully and neatly otherwise you'll have a misspelled name on your certificate like I do.
Overall, if you are better prepared than I am, you can have a fun filled day at Citi Field. In the end, it turned out to be a reasonably nice day, and my son was able to stay for all nine innings. It looks like he was born a Mets fan just like his "Mets Daddy." If you go the game this weekend, I wish you the best of luck. Have fun at Citi Field and Lets Go Mets!