We're Running out of Innings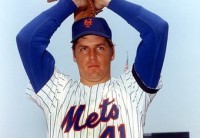 In late June, the Mets called up Steven Matz, in part, because the team felt they needed to switch to a six man rotation. The theory was that if the Mets didn't do this, Matt Harvey, Jacob deGrom, and Noah Syndergaard would hit their innings limits in September. The Mets were being proactive to avoid a repeat of the Stephen Strasberg incident.
After Matz was misdiagnosed by Dr. Warthen, he went in the DL with a torn lat. Matz had to completely shut down all baseball activity for three weeks. We do not yet know if: 1) he can come back this season; and 2) what his role would be.
With Matz down, the Mets now face a ticking clock on the innings limits of their three "stud muffins." Due to Matz's injury, the Mets have abandoned the six man rotation for the second time this year.
There are different theories to limiting innings from the Verducci Effect (20-30 innings more than year before) to Tampa Bay's 20% philosophy (20% more innings than prior year). These limitations would apply to deGrom and Thor.
deGrom pitched 178.1 innings last year between AAA and the majors. Accordingly, his innings would be limited somewhere between 208.1 – 214.0 innings. Right now deGrom is at 127.1 innings (not including his one inning in the All Star Game), and he has averaged approximately 6.2 innings per start. deGrom has approximately 12 starts remaining. If he continues averaging 6.2 innings per start, he would pitch 80 more innings giving him a season total of 207.1, which is right at the lower end of the limitation spectrum. At best, he could have one postseason start for 6.2 innings to stay within his innings limits.
Last year, Thor pitched 133.0 innings. So far this year, he had pitched 108.1 innings between AAA and the majors. He has averaged 6.0 innings in his major league starts. Using the aforementioned parameters, Thor's innings limit would be between 159.3 – 163.0 innings. Like deGrom, he has approximately 12 starts left if he pitched every fifth day. At six innings per start, he would finish the year with 180.1 innings. Therefore, Thor really has nine starts left to stay within his innings limitations. This leaves him unable to pitch in the postseason.
Harvey is a different case as he did not pitch last year due to Tommy John surgery. In 2012, the Nationals estimated that Strasburg should be limited between 160.0 – 180.0 innings. For their part, the Mets estimated they would hold Harvey to 190.0 innings. While I think Harvey is the ultimate competitor, he is represented by Scott Boras, who also represents Strasburg. Boras championed limiting Strasburg's innings.
Right now, Harvey is at 125.1 innings, leaving him with only 64.2 innings left in the season. Assuming he has 12 starts remaining, he can only pitch approximately 5.1 innings per start. He's currently averaging 6.2 innings per start. Like Thor, he would also be unavailable for the playoffs.
I can't imagine the Mets intend to heavily rely on Bartolo Colon and Jon Niese in the postseason because of the aforementioned innings limits. If they get to October, they must ride their stud muffins. The Mets know this, and yet, they still made a win-now trade for Tyler Clippard. I believe this is a sign they are ready to disregard innings limits and make a real run for it.
That's fine because recent studies have shown innings limits do not prevent pitcher injuries. This is something Seaver knew intuitively. I'm sure he will be happy when the Mets do away with the innings limits this year. Mets fans should as well because it means the Mets are not relying on unsupported science and are playing meaningful games in September.