Prospects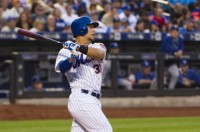 On August 10th, with Michael Cuddyer coming off the DL, the Mets had to decide whether to send down Eric Campbell or Michael Conforto. It seemed both would have to be sent down anyway. Most believed that when David Wright came off the DL, the other player would have to be sent down to AAA.
I thought it should've been Conforto for many reasons. Principally, I thought if you're going to have to send him down anyway, why not do it sooner to let him really work on some things in AAA where he can get more focused attention. In his infinite wisdom, Mark Simon basically said that we should worry about the second move when the time comes:
https://mobile.twitter.com/msimonespn/status/630832627109335040
It turns out he was right. No one should be surprised because he's a smart guy and a fantastic follow. Anyway, he's right because things are a little haywire with the Mets right now.
The bullpen is a mess right now. Logan Verrett was initially called up to take Bobby Parnell's spot in the bullpen. In reality, he was called up for one short relief appearance on his throw day and to make a spot start on Sunday so the team can skip Matt Harvey's Sunday start.
With the bullpen being short, the Mets decided they needed to call-up Dario Alvarez. I don't know much about him. I'm not putting much stock in his performance last year. It was a small sample size. However, he was ranked as the Mets #22 ranked prospect. After a good start in Binghampton, he moved to Las Vegas where he's been dominant with a 1.08 ERA, a 0.60 WHIP, and 16.20 K/9. This may turn out to be a great decision especially since Alvarez is a LHP.
Now, the Mets need to make a make room for Alvarez. Throughout the game on Friday, Gary Cohen suggested it would be Conforto. With him having to go down on Monday and the Rockies throwing a LHP on Saturday, meaning Conforto wouldn't play, it seemed to be the right move. Then, as Mark Simon said, things began to work themselves out."
First, Bartolo Colon was hit on the wrist and has a large bump there. It was severe enough that it merited getting an x-ray. Luckily, it's not broken, but Colon said it did affect his pitching. He doesn't want to have to skip a start, but I'm not ruling it out at this point. At some point, the Mets may need to consider putting him on the DL.
Speaking of the DL, Lucas Duda had to be pulled from the game with an aggravation of the same back injury. According to Adam Rubin, it may be Duda who winds up on the DL. It should be noted with the Mets not putting Duda on the DL when the problem first arose, they got a PH appearance, two games at DH, and six full innings at 1B. If he was initially placed on the DL, he would've been ready to come back on August 28th. Presumably, he would've been in better shape and not susceptible to a relapse. Instead, the Mets will get three games from Duda between August 13th and September 6th. Yet again, they've botched an injury situation.
With Duda presumably going to the DL, Conforto gets a reprieve. I wish the Mets would let him bat against lefties. It doesn't make sense that they don't, especially when they let Curtis Granderson do it. However, that's another argument to re-hash at another time.
Let's hope Colon and Duda get better. Let's hope Conforto begins to produce better than his .224/.333/.448 triple slash line. Let's hope Alvarez is effective. Mostly, let's hope the Mets start reacting better to player injuries.