Mets Better Tender Tejada a Contract Now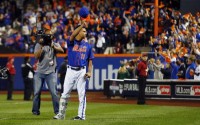 Yesterday, the Mets made their additions to the 40 man roster to protect their prospects from the Rule 5 draft. I can understand only having 39 players on the roster because if there's a player available, you want the roster space to select that player. If you're roster is at 40, you're not permitted to make a Rule 5 draft selection.
What I can't understand is if the Mets lose a prospect and non-tender Ruben Tejada later. The rumors have been circling the Mets want to non-tender Tejada because he's too expensive. That merits its own separate argument (it's a dumb move). I only bring it up here because if you know you're not keeping him, why let him stand in the way of keeping a prospect?
For me personally, there were two players who were non-tendered that jumped right out: Wuilmer Becerra and Matt Bowman. Now, there are legitimate reasons to expose these players to the Rule 5 draft. Becerra has never played above A ball and is really two plus years away from being able to play in the majors. Bowman had a horrific year last year.
I also suspect both will be taken in the Rule 5 draft. They both could return to the Mets. However, if a team like the Braves picks them up, they'll probably stay there all year as the Braves seem to be renting the 2015 Mets June offense. If either of these players are taken the Mets made a critical and unacceptable mistake.
Essentially, they're sacrificing players for no good reason. If you're non-tendering Tejada, do it now. Protect another player from the Rule 5 draft. Why let Tejada stand in the way of the Mets keeping Becerra who could be a fixture in the Mets outfield for years to come? Why let Tejada stand in the way of Bowman rebounding and becoming a big trade chip and/or a contributed in 2016? If the reports are true about Tejada, the handling of the 40 man roster is just negligent.
The Mets have created a situation where they need to keep Tejada, not just for an option at shortstop, but also as justification for losing two prospects for nothing. If they let Tejada walk, they may lose three players over $3 million. Absurd.