In Defense of Eric Campbell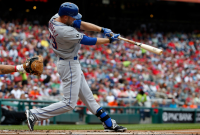 The facts are the facts. Eric Campbell is just not a very good Major League Baseball player. With that said, I'm alright with the Mets keeping him on the 40 man roster.
Over the past two seasons, the 28 year old Campbell has played 156 games. In those games, he has played every defensive position except centerfield and catcher, and he's trying to become an emergency catcher. For a part time basis, he's passable to barely passable at each of these positions. While he's not great at any position, you can put him in for one game and feel like he's not going to cost you a game.
Offensively, he's hit .231/.317/.328. Not that good. His OPS+ is 84, which means he's not a league average hitter. Looking at his wRC+, he's at 88, which again means he's below average. Add all this up, and he's got a -0.1 career WAR again meaning he's a below average player. Now that I'm done confirming everything you know about him to be true, here's some additional information you may not have considered.
Campbell is actually a good pinch hitter. For his career, Campbell has had 54 plate appearances hitting .293/.426/.390. Remember that earlier this year, he had a key go-ahead pinch hit that helped the Mets win a game. He hits the ball hard (statistically speaking). He ran into some bad luck last year with a BABIP of .230, which suggests he hit into a lot of hard luck last year. If those base hits start falling in, his 2015 season looks much better. With BABIP typical being .300, you can expect that better outcome next year.
With all that said, Campbell was left off the roster for both Kelly Johnson and Juan Uribe. With the Mets, Johnson hit .250/.304/.414. His OPS+ was 99. His WAR was 0.3. His wRC+ was an 87. As a pinch hitter, he's hit .209/.341/.309. This makes him a very average baseball player.
On the other hand, Juan Uribe hit .219/.301/.430 for the Mets. His OPS+ was 102. His wRC+ was a mere 104. His WAR was 108. However, unlike Johnson and Campbell, he really only plays third now. He did begrudgingly play some second, and he was uncomfortable playing first.
Campbell will most likely be paid something in the vicinity of $500,000 to $600,000. Johnson was just paid $1.5 million next year. I'm presuming Uribevwould fetch around the same amount now. For a bench player who is expected to pinch hit and be versatile, is Johnson really that much better than Campbell? Would you want a bench player who has little to no versatility like Uribe? Are Johnson and Uribe a million dollars or more better than Campbell? I'd argue no.
Even if you believe they are, that's a reason you sign them to be a utility players on the major league 25 man roster. Campbell is going to be on the 40 man roster being stashed away in the minors in case of an injury. Overall, despite fans ire, Campbell has real value to this Mets team, and he has earned his spot on the 40 man roster.
Does that mean you put yourselves in a position to lose a potential star in the Rule 5 draft to keep Campbell? Of course not. A million times no. However, before getting upset about Campbell consider the following:
The Mets still have one extra spot on the 40 man roster;
Ruben Tejada is rumored to be a non-tendered candidate, but the Mets will keep him waste a spot on the 40 man roster; and
There are other players like Darrell Ceciliani who are much worse than Campbell taking up roster spots.
So, yes, Campbell is a flawed player. That's why he's a minor league depth player. It's why he's a bench player at best. However, he's not the worst player on the 40 man roster, and he's not the reason that the Mets may lose Wuilmer Becerra and Matt Bowman in the Rule 5 draft.
The reason is because the Mets chose to gamble by exposing them or by keeping worse players like Ceciliani on the roster. Campbell has earned his spot on this roster and may yet help the Mets in 2016.