Darrell Ceciliani Shouldn't Be on the 40 Man Roster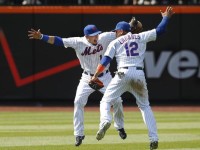 There has been a lot of handwringing over the Mets choices over the 40 Man Roster. There are quality prospects now exposed to the Rule 5 draft. Some pointed to Eric Campbell still being on the roster. I don't like how the Ruben Tejada situation is impacting the roster. Mostly, I don't understand how Darrell Ceciliani is on the 40 Man Roster.
I know it was a very small sample size, but Ceciliani showed us nothing that would lead you to believe he's a major league player. In 39 games last year, Ceciliani hit .206/.270/.279. He had more strikeouts than hits. He struck out in one-third if his plate appearances. His OPS+ was 55, which is just abysmal. Really, the only good thing you could say about him was he was an adequate fielder.
Now, he's only 25, and he's still a prospect. However, he's not really a good prospect. Essentially, he's projected to be a 4th OF. It's nothing to sneeze at, but it's also not a reason to let better prospects walk. Keep in mind Ceciliani's potential role with the team is already filled by Kirk Nieuwenhuis. Nieuwenhuis has at least showed that he can be a good pinch hitter, pinch runner, and/or platoon option for Juan Lagares.
Unfortunately, the Mets went with Ceciliani over the pitching prospects and/or Wuilmer Becerra. I don't understand the logic. The Mets are sacrificing players who may very well be selected in the Rule 5 draft for a player who might not have even been claimed off waivers.
Ceciliani should not be on the 40 man roster.