Clock Has Officially Started on Nimmo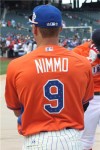 The first ever draft pick by the Samdy Alderson regime with the Mets was Brandon Nimmo. Today, he should be added to the 40 man roster, and he looks like he will begin the year in AAA.
When the Mets drafted him, they were just drafting on potential. Sure, you could make that argument with any first round pick, but it really applied to Nimmo. He played in Wyoming, a state that produces very few major league players. He showed glimpses of being a give tool player, but in a state like Wyoming, who really knows?
The Mets knew he was a long term project. That's fine. You draft the best talent. He's definitely talented. He's a Top 100 MLB prospect and the Mets number two overall prospect (behind Steven Matz). He's shown he can handle centerfield everyday. He's got good speed and a good arm. While he may not have 20 home run power, he's got a good eye and he's a contact hitter. In his minor league career, he's hit .263/.383/.391. After his call-up to AAA last year, he hit .264/.393/418 in 32 games.
It's possible he gets called up in 2016. It's even more possible he gets called-up in 2017. Fact is, the sooner he's ready the better. Right now, the Mets seem to want a platoon bat in CF for Juan Lagares. They deem this such a need they're talking with players who can't play the position. Personally, I'd let Kirk Nieuwenhuis be the platoon option until Nimmo is ready. It's not like Kirk is any worse than the other options. I believe everyone in the Mets organization wants Nimmo to force them to make the decision.
That's why the clock is ticking. Everyone is waiting for him to take over CF. We're looking forward to seeing Nimmo and Michael Conforto continue to drive each other to become the best players they can be. If they bring out the best in one another just watch out when they're reunited in the majors.
I'd like to see Nimmo get his chance. I'd hate to see him blocked by what will be an albatross of a contract. Right now, it's up to him. Conforto forced his way to the majors. Nimmo has to be the same. He's now on the 40 man roster, which means there's one less hurdle.
Soon, it will be Nimmo's time.