Charting the Mets Rotation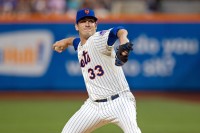 Coming out of the All Star Break, the Mets wisely set their rotation to allow their stud muffins to face the Nationals twice. Initially, the move was a bust.  However, after the Yoenis Cespedes trade, the Met took off and swept the Nationals.  Now, it seems like the Mets want to go back to the six man rotation, or at a minimum have some spot starts.  If the Mets did not go to the six man rotation or have any spot starts, here's how the rotation would shake out:
8/7 @ Rays
8/12 vs. Rockies
8/18 @ Orioles
8/24 @ Phillies
8/29 vs. Red Sox
9/4 @ Marlins
9/9 @ Nationals
9/14 vs. Marlins
9/20 vs. Yankees
9/25 @ Reds
10/1 @ Phillies
8/8 @ Rays
8/13 vs. Rockies
8/19 @ Orioles
8/25 @ Phillies
8/30 vs. Red Sox
9/5 @ Marlins
9/10 @ Braves
9/15 vs. Marlins
9/21 vs. Braves
9/26 @ Reds
10/2 vs. Nationals
8/9 @ Rays
8/14 vs. Pirates
8/21 @ Rockies
8/26 @ Phillies
8/31 vs. Phillies
9/6 @ Marlins
9/11 @ Braves
9/16 vs. Marlins
9/22 vs. Braves
9/27 @ Reds
10/3 vs. Nationals
8/10 vs. Rockies
8/15 vs. Pirates
8/22 @ Rockies
8/27 @ Phillies
9/1 vs. Phillies
9/7 @ Nationals
9/12 @ Braves
9/18 vs. Yankees
9/23 vs. Braves
9/29 @ Phillies
10/4 vs. Nationals
8/11 vs. Rockies
8/16 vs. Pirates
8/23 @ Rockies
8/28 vs. Red Sox
9/2 vs. Phillies
9/8 @ Nationals
9/13 @ Braves
9/19 vs. Yankees
9/24 @ Reds
9/30 @ Phillies
Now, we are all aware of the rumblings of the Mets using a spot starter or returning to the six man rotation.  What we also know is the Mets are going to rip past the innings limits anyway.  So in this somewhat academic analysis, just go back and take a look again at how the rotation will work out.  For starters, it's great that Colon only pitches one game against a team over .500 until the last week of the season.  Additionally, if everything works out according to plan, you don't have to finagle the rotation to start the postseason with Harvey, Matz, and Syndergrom.  Isn't that your goal?  Now, if things get hectic towards the end, remember the Mets don't have a huge lead right now, they can shift starts around in September so you can have the stud muffins going against the Nationals in the last series of the season.
Overall, if you are going to rip through the innings limits, why not do it properly and set the team up for success in September and October?  My belief is that if you don't change the rotation as it stands right now, the Mets look to be in good shape for the rest of the season, and they will have their stud muffins front and center entering the postseason.  Let's not overthink things and keep it the way it is.