Bobby Goes Boom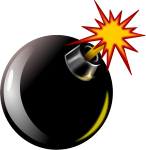 The Mets put everything into this series. They set the rotation to face the Nationals. They were holding three aces and put their chips to the middle of the table. They lost.
You could kill the offense, but they did score three runs off of Jordan Zimmermann, who's a really good pitcher in his own right. You could go after Thor for struggling all day and only going five innings. However, he only let up one run. Overall, the story of the game is the bottom of the eighth . . . that's where the Mets blew it.
When you are up two runs in the eighth, you have to win the game. To his credit, Josh Lewin said Familia needed to come in the game after the hard hit liner by Tyler Moore. Instead Parnell stayed in the game, threw a wild pitch putting runners in scoring position. Michael Taylor followed up with a two RBI single Ina fastball down the middle. After not holding on Taylor, Taylor stole second and scored on a Danny Espinosa single. Game over.
As Josh Lewin pointed out, Parnell's Nationals Park ERA is over 8.00 (before today). Who's to blame here? First, it's Parnell. He's got to close the door. Second, it's Collins. Look, when you set up the rotation to go directly after the Nationals out of the All Star Break, you have to go all the way. It was time for a four out Familia save attempt there. To his credit, Collins took complete blame for the loss.
However, all is not lost. The Mets are only three out ( four in the loss column) with nine left against the Nationals and relatively easy August and September schedules.
However, you can't feel good either with the offense questions not resolved, an 8-21 record against the Nationals the past two years, and a 17-32 road record. Next up? The Dodgers, who are leading off with Kershaw and Greinke.
You have to admit the atmosphere at Citi Field would've felt a whole lot different than it would've had they won this game.