What's Really Going on with Conforto?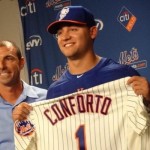 Yesterday, I made two posts detailing why the Mets should call-up Michael Conforto if Michael Cuddyer finally lands on the DL (the posts can be found here and here). Since these posts were made, the reporting on him has been all over the place (trust me when I say I'm not implying a cause and effect). Here is what the various news outlets have to say about Conforto:
The New York Post reports the Mets are thinking about calling up Conforto.
The New York Daily News reports the Mets are leaning towards calling up Conforto on Thursday.
Newsday reports a Conforto call-up is unlikely, but that may change if Cuddyer goes to the DL.
Similarly, the Star Ledger reports the Mets will consider calling up Conforto if Cuddyer is placed on the DL.
Adam Rubin reports the Mets the Mets are kicking around the idea of calling up Conforto I'd Cuddyer lands on the DL although "internal dissension remains."
From my reading of the tea leaves, it appears the Mets are really hoping Cuddyer wakes up one day with a miraculously healed knee. They're also hoping to add an OF without giving up much in return. Overall, they're kicking the ball down the road before they are forced to make a tough decision.
As a Mets fan, I do appreciate they are taking this seriously. The pitching is here. Next year, there will be even more pitching. We just need the hitting. I believe Conforto is ready to contribute (but not necessarily dominate). If the Mets feel differently, that's fine, but they have to do something here.