Cespedes Will Leave for Greener Pasture$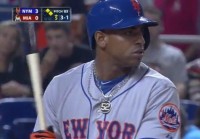 I don't understand who came up with the rumor that Yoenis Cespedes could resign with the Mets. It's not going to happen. I don't care that he said:
Can Cespedes see Mets as long term home? "Something I can't control…I would love for everything to work out & stay for a long time"

— Mike Vorkunov (@MikeVorkunov) August 4, 2015
Keep in mind, the Tigers are optimistic the can resign him:
https://mobile.twitter.com/BNightengale/status/627222615459958785
The thing is Cespedes has said he wants to stay with the Mets and Tigers long term. You know where he really wants to go? The same place every player wants to go . . . the team that offers him the most money. Think about it. Why would a Cuban defector want to go to Oakland? It's because they offered the most money. How much does Cespedes want? Think big:
https://mobile.twitter.com/marccarig/status/628735472664227840
Even if this is what it'll take to resign him, the Mets need to agree to that deal within five days after the World Series. My impression is if the Mets do offer it, Roc Nation will shop it around and get a better deal for Cespedes.
Keep in mind the Mets didn't magically become flush with cash. They're actually going to have to pay David Wright next year. I can't imagine the Mets going from asking the Athletics (twice) and Braves to kick in money on a trade and then spending like drunken sailors next year.
Also, the Mets have a pending logjam in the outfield next year. Curtis Granderson will be making $16 million. Michael Cuddyer will be making $12.5 million. Juan Lagares will be making $2.5 million. Michael Conforto has already found his way to the majors and may be in the mix next year. Plus, Brandon Nimmo is not far away.
They'll have to move someone to make room for Cespedes, and they won't have enough time to do it. They'll also have to determine what to do with Daniel Murphy, who is a free agent. I think the Mets might've initially been inclined to let him walk. However, with the second base uncertainty and David Wright's back, they may look to bring him back.
So, Mets' fans need to enjoy Cespedes now because he won't be back. Hopefully, he will get a bump in salary after a good postseason, maybe even a World Series title. That is our best case scenario.