Knee Jerk Decisions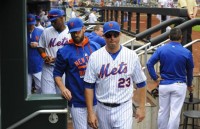 After the end of his stay on the 15 day DL, Michael Cuddyer says he will return to the Mets this Friday. This leaves Terry Collins and the front office with crucial decisions to make.
The first is who gets sent down to make room for Cuddyer? The two most obvious candidates are Eric Campbell and Michael Conforto because they both have options. The argument for Campbell being sent down is he's not playing much. The argument for Conforto is Cuddyer may not be ready to play everyday. If Cuddyer is not ready to play, Conforto, similar to Kevin Plawecki, will stay in the majors.
The second issue is what will Cuddyer's role be? To his credit, Cuddyer had said his main focus is to win, even if that means he's on the bench. If Collins follows his lead, Cuddyer will play as often as his knee will permit and for as long as he's effective. Since the acquisitions, Collins had implemented a platoon system.
This means Cuddyer could be used to give Lucas Duda and Curtis Granderson a day off against tough lefties. I would argue it should only be against tough lefties as they've been the two best hitters all year (trade acquisitions excluded). Collins could use Cuddyer in a LF platoon with Conforto, which unfortunately, is something Collins looks like he's doing with Cuddyer and Juan Lagares now.
The last question: is this the right time? If Cuddyer is healthy, he should be on this team, and he should play. If he's not, taking him off the DL is premature. Now, he could ease his way back by DHing against the Rays. The Mets will not a DH again for another week and a half.
However, he could also ease his way back by playing rehab games and seeing how the knee responds. That is the more prudent move. I know it may be tough for Cuddyer to accept, but the team doesn't need him right now. Now, if he's healthy, he's an upgrade to the roster and should be added immediately. I appreciate him wanting to come back and help, but the Mets need to protect him from himself. They also need to protect this roster from dead weight.
I hope Cuddyer comes back soon and contributes. I hope the Mets send down Conforto. I hope the Mets continue to win.