Plawecki Catching On?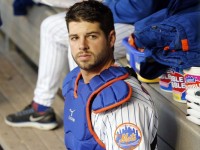 Yesterday, the Mets activated Travis d'Arnaud from the DL, and they surprisingly optioned Anthony Recker to the minors (I guess Bartolo Colon has an excuse again for his poor performance). I was surprised about this because it means Kevin Plawecki is staying on the Mets roster.
I guess I shouldn't be that surprised because this is what happened the last time d'Arnaud was activated off of the DL. Look I understand the Mets' reasoning in wanting to ease d'Arnaud back. He's an important part of the lineup. However, if he needs to be eased back, why are they rushing him to the majors? We know the answer is his bat, but if his elbow is not healthy, he's not going to hit. If this isn't a case of rushing his bat back to the majors, then why did the Mets pick Plawecki over Recker or Monell?
The reason is simple. None of the Mets catchers are hitting. Plawecki is hitting .212/.257/.212 over the past two weeks. Anthony Recker is hitting .123/.254/.228. Al Leiter hit better than that as a 36 year old pitcher. I know I'm cherry picking there, but I should not be able to pick out any of Leiter's offensive seasons and compare them to a major league hitter. The last option is Johnny Monell, who is hitting .178/.245/.222. So you could argue, the Mets are going with the option that gives them a chance to win now. However, we should really be asking ourselves if this is the best option for the team.
Kevin Plawecki is a 24 year old catching prospect, who should be playing everyday. While d'Arnaud has been on the DL, Plawecki has been playing everyday. However, now that d'Arnaud is back, I do not see how sitting on the bench is going to help him. Plawecki has been up in the majors for 59 games worth of action. This is more than a cup of coffee. Normally, I would agree that sitting on a major league bench is good exposure for a rookie. However, he's already done that. Whatever benefit that may have for his has or at least should have sunk in already.
Furthermore, last year when d'Arnaud wasn't hitting, he was sent down to the minors. Plawecki is in the same situation d'Arnaud was in last year. When d'Arnaud went down to AAA, he found his stroke. This season he's hitting .296/.338/.535, albeit in very limited action. With Plawecki currently struggling at the plate, shouldn't the Mets consider sending Plawecki down to get him right? Seriously, at this point what's the difference between Plawecki's bat and Monell's bat? If you want to sit d'Arnaud a little, let Colon have Recker as his personal catcher for now. You can always recall Plawecki in September when the rosters expand. God willing, you can have him on the postseason roster over Recker or Monell.
Overall, the Mets' three priorities right now are: 1) make the postseaon; 2) build a team that can win in October; and 3) don't do anything that can harm the future of the team. With respect to making the postseason, I don't see a Plawecki being a difference maker over Recker or Monell in the limited action he's going to see with d'Arnaud up. With respect to winning in October, I'd rather see Plawecki in the minors getting his swing right and being an option off the bench in September and October. Lastly, having him in the majors right now prevents him from really working to get better.
While I appreciate the Mets are trying to do everything they can to win, I think they are being extremely short sighted with Plawecki right now. He needs to be sent down to the minors to improve for the stretch drive and for seasons to come.