Did the Mets Just Duda That?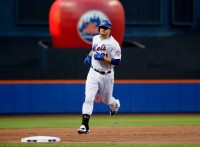 On Friday at 3:00 P.M., things were about as bleak as it could be this season. The Carlos Gomez trade fell apart, and there seemed to be bickering as to whether it was due to Gomez's hip or the Mets' finances. On Thursday, the Mets' bullpen inexplicably blew a six run lead.
Then it seemed the Mets would add Jay Bruce until they didn't. It sure looked like the Mets were never going to add a bat. Worst yet, the Nationals were coming into NY after previously taking 2/3 from the stud muffins. This was a Nationals team that went 15-4 against the Mets last year.
On the eve of the trade deadline, the Mets acquired Yoenis Cespedes. The attention around the Mets changed from despair to hope. This hope continued to grow throughout the weekend.
On Friday, it was a dominant Matt Harvey and an emotionally satisfying Wilmer Flores' walk off homerun. On Saturday, it was the Lucas Duda Fireworks Show. Tonight, Thor was once again the story. Thor went eight innings with two two earned and nine strikeouts.
Thor made the homerun barrage in the third to stand up. On back-to-back pitches, Curtis Granderson and Daniel Murphy homered. After Cespedes' first hit as a Met, Duda capped off the five run inning with a homerun of his own. Tyler Clippard, in for Jeurys Familia (who pitched two days in a row), recorded his first save as a Mets.
The Mets have flipped the script. They swept the Nationals and are now tied for first place in the NL East. I'm so excited that I'll ignore they're one behind in the loss column. The Mets are now 38-18 at home. Surprisingly, they're 7-6 against the Nationals this season.
The Mets are in a dead heat with the Nationaks and have six head-to-head match ups with them. They have an easy second half schedule. I can't believe I'm saying this, but the Mets are in the driver's seat in the NL East. We've waited seven years for this, and so far, it's been worth the wait. Lets Go Mets!