Thor is the Story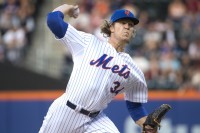 There was a lot of stories and distractions today around the Mets. First, there were fans clamoring for the return of Jose Reyes. Then the Mets made it clear they had no interest in Reyes. Next, David Wright resumed baseball activities. Finally, Jenrry Mejia embarrassed Major League Baseball, the Mets, and himself with his second PED suspension THIS YEAR!
Noah Syndergaard took the mound Tuesday night and made himself the story. He was perfect through six innings, and he finished with an incredible line of 8.0 innings pitched, 9 strikeouts, 3 hits, and no walks.
After Thor allowed the first single to potential trade target Will Venable, he allowed an infield single to Yangervis Solarte. On the Solarte single, Ruben Tejada tried to do too much. Rather than smother the ball, he tried a glove flip to Daniel Murphy to try to get the force out. Instead of a Web Gem, Tejada nearly put the ball into right field. Venable advanced to third on the play. It was 2-0 with runners on first and third with no outs.
Thor then threw down the gauntlet (sorry comic book fans if this is mixing metaphors). He got Matt Kemp to pop out and induced Justin Upton, another trade target, to hit into a 6-4-3 double play. Despite having only thrown 107 pitches, Thor was lifted after eight innings (perhaps due to the innings limit dilemma). Tyler Clippard made his Mets debut and worked his way around a leadoff double.
After this inning, I finally put my son to bed. Growing up, there was a rule in my household: bed time was suspended until a Mets' pitcher allowed their first hit. The longest bed time reprieve I remember was David Cone losing a no-hitter on a dribbler down the third base line that refused to go foul. I knew my son wouldn't remember seeing Thir pitch a perfect game, but I would remember watching it with him. That would've made it all the more special maybe next time.
When setting today's lineup, Terry generally followed the platoon system. With the righty Shields on the mound, Collins went with Kirk Nieuwenhuis and Daniel Murphy. However, after his walk-off hit on Sunday, Juan Uribe was in the lineup. It should be noted that coming into the game Uribe had gone 2/5 with one walk and a triple against Shields.
My belief is that this is the Mets' best defensive infield alignment. Incredibly, Murphy was the defensive star of the game making two nice defensive plays whe the no-hitter was still viable.
Kudos is also due to Lucas Duda, who hit a mammoth two run homerun in the first inning. It appears the pressure is off and the power is back. His other outs were hard hit balls. Curtis Granderson put the game away with a two run homerun in the eighth.
However, the story of the game and th day was Thor, who pitched like an ace. It seems the stud muffins are pushing each other to be better. It's incredible, and it's the type of thing that drives a team towards the postseason.