Step in the Wright Direction?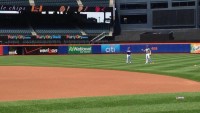 When the Uribe/Johnson trade went down, I lamented that it may be a sign David Wright was done for the year. Hopefully, today may be a sign I was wrong because Wright took grounders at Citi Field and felt great.
For what it's worth, there were doctors who believed Wright could return to play this season. However, this same physician said Wright would return sooner rather than later. To be fair, that is open-ended.
Overall, doctors seem to agree baseball activities exacerbate spinal stenosis. Specifically, the rotation/twisting actions involved in swinging a bat exacerbate the spinal stenosis symptoms. Stephania Bell noted setbacks on the comeback trail are common. Therefore, while it is terrific Wright is taking grounders, it is notable that it was not reported he took batting practice or hitting off of a tee. Even assuming he did and he's 100% ready to resume play, he's most likely going to need a lengthy rehab assignment.
Wright has not picked up a bat in about three months. Accordingly, Wright probably needs his rehab assignment to be something akin to Spring Training. Keep in mind, this year the Mets position players reported on February 24th. With the season start date of April 6th, that means Wright originally had 41 days to get ready for the season, which doesn't include any preparation he did on his own before the season.
If Wright began a rehab assignment right now, he would be ready by September 7th (using the 41 day parameter). The Mets' last game is October 4th. If the Mets want Wright to play before the playoffs, he's going to need to begin his rehab assignment by August 24th, at the latest. Realistically, you would want him to play at least one week (possibly more) before the end of the season. With what he means to the team and the nature of his injury, I can't imagine the Mets would accelerate his rehab assignment.
The absolute deadline for Wright to begin a rehab assignment is quickly approaching. If all goes right, he just might make it. The slightest set back means he won't. I pray he can do it because, when he's right, he's a huge upgrade over Uribe/Murphy.
UPDATE: apparently Wright did hit off a tee while he was in LA. While this is much more promising, the tight time tables remain in place. My fingers are crossed.