Mets in Danger of Losing Goodwill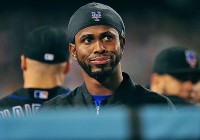 Lately, the Mets had just started to build some goodwill with the fan base. First, the acquisition of Juan Uribe and Kelly Johnson paid immediate dividends on Saturday and Sunday. Yesterday, the Mets gave up a substantial prospect to get Tyler Clippard.
Late last night, the baseball world was shocked by the Troy Tulowitzki-Jose Reyes blockbuster. Immediately, Mets fans began clamoring to bring Reyes back to the Mets. I immediately looked to see the Mets' interest level in Reyes:
Alright, alright. I shouldn't be surprised because the Mets were not interested in resigning Reyes in 2011. I get the point. However, I question if the Mets get the point. They're risking the recent goodwill they've acquired especially with reports that Tulo wanted no part in coming to the Mets.
I firmly believe with the Tyler Clippard overpay, the fans would've accepted it if the Mets couldn't or wouldn't make another deal. With them now twice passing to trade for Reyes (despite a need for a SS, a bat, and a leadoff hitter), the fans will grow angry with this team again for not getting the other player. The fans will not believe there is any more money to spend.
Look, I love Reyes. Who didn't love the Jose chant or his walk up music? He brought a certain energy to the team and the stands. However, if this team doesn't want him [again], we have to accept that.
The Mets have to accept that something has to be done. The Mets are not interested in Carlos Gonzalez. The Mets traded the player the Brewers wanted for Tyler Clippard making a Gerardo Parra and/or Carlos Gomez deal more difficult. The Mets are competing with the Angels for Jay Bruce.
The Mets have created this situation, and now, they need to do something. You could call the Reyes trade bad luck, but that covers up the fact they were not aggressively pursuing a SS. I'm curious to see where the Mets go from here.