Mets Lost the Cespedes Trade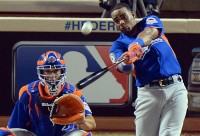 I know Yoenis Cespedes is a huge upgrade for the Mets. He provides power, speed, and good defense. However, unless the Mets win the World Series, this trade is a failure.
Actually, no. This is a bad trade regardless of the outcome of the Mets season. The reason why I say this is because Sandy Alderson had the leverage and he caved.
Cespedes is a unique rental player because he has a clause in his contract that requires his team [the Tigers] to release him once his contract expires. This prevents the Tigers from extending him a qualifying offer to receive draft pick compensation in the event he signs with another team. A player wants this to prevent what happened to Stephen Drew and Kendrys Morales (even if Cespedes' contract was signed prior to these holdouts).
Now, because Cespedes would be a released player, as opposed to a free agent, the Tigers would only have five days after the World Series to sign him. If they cannot sign him within that time period, they lose the chance to sign him until after the season starts.
Cespedes' agent is Roc Nation, who also represents Robinson Cano and Rusney Castillo. Roc Nation has obtained deals that have been perceived as above the market. In both instances, Roc Nation really let the market develop and bid teams against one another. I know Cespedes wants to resign with the Tigers, but he's not leaving money on the table. Keep in mind Robinson Cano wanted to remain a Yankee.
This is where it gets interesting. Dave Dombrowski was left with three options: 1) make no deals and try to get into the playoffs; 2) work out a deal now for Cespedes or 3) trade him and be in a better position to sign him in the offseason. Once the Tigers traded David Price it confirmed they were selling. I'm sure Dombrowski inquired as to whether Cespedes would sign a deal, but I'm equally as sure Cespedes wants to test the market. That means Dombrowski HAD TO TRADE CESPEDES. If he didn't, he risked losing him for nothing.
Admittedly, Alderson was in a tough spot. The Carlos Gomez trade fell apart and things got ugly. Wilmer Flores was crying in the field. There were accusations the Mets really nixed the deal over finances. Then Gomez goes to the Astros, who have no problem with his hip. The fans and media were getting tense, if not angry.
So, we're left with one GM who must make a deal, and one GM that has pressure but isn't required to make a deal. Sandy Alderson is the one who blinked.
It seems all along Dombrowski "badly wanted" Michael Fulmer and Luis Cessa. Fulmer was the Mets' 2011 supplemental draft pick (#44 overall). Currently, he is Baseball America's 98th best prospect. Reportedly, the Mets were willing to part with Zack Wheeler in the Gomez deal due to the emergence of Fulmer. Fulmer has a 96-97 MPH fastball with a good slider and good command of both sides of the plate. He has recently been compared to Matt Garza and Garrett Richards. This is another way of saying he's a #2 starter with a real competitive streak.
Cessa is a project. He's converted to pitcher and he is developing his repertoire in AAA. He can throw 95 MPH and is working on his off speed stuff. As you can see, there may be promise here, but he's probably a bullpen arm, at best. He's not the player that haunts you in a deal like this.
The player that haunts you is Fulmer, who has already been described as an "unbelievable get for a rental." Not just a rental, but a rental the Mets probably can't resign (financial issues aside). I've seen the Mets and their fans argue Fulmer is not part of the Mets' core talent, whatever that means. I've seen Fulmer described as not being one of the Mets top five prospects. So what? You trade value for value.
It's funny. I don't see these same people noting the Mets just gave the Tigers their 5th and 9th best prospects. I don't think I would've been happy with just Fulmer in the deal. Keep in mind this is the Mets gave up for a rental. In fact on Baseball Tonight, Keith Law stated the Mets gave up their two best pitching prospects left in the farm system.
I understand you have to give value to get value. That's why I initially supported the Gomez trade and like the proposed Jay Bruce deal (I also agreed with the Mets that once the Reds ask for more, you have to walk away). However, Cespedes had dwindling value to the Tigers. He was more valuable to them with another team at this time.
Frankly, Alderson either blinked, panicked, or didn't judge his prospects properly. This is unacceptable when you have the leverage. I think Cespedes is a great addition, but the Mets gave up way too much. I don't see why the Mets are going all-in when:
They are in second place to a healing Nationals' team;
They are behind the Pirates, Giants, and Cubs in the Wild Card race; and
Their pitchers are nearing their innings limits.
This was not the season to go all-in. Sure, you try to improve, but you don't give up trade assets you'll need next year, when you're presumably a better team, to take you to the next level. Also, keep in mind they went all-in without shoring up all of their holes. They still need a SS and a LOOGY. Plus, they're still a healthy David Wright from being a good offense. Can we trust he'll come back this year and produce like David Wright?
I really hope they win the World Series because if they don't, they took what could've been a year to build on to a complete failure.