Gomez is ASTROnomical Risk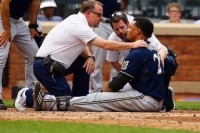 As I wrote earlier, I don't know who to believe in the Carlos Gomez trade fallout. After reflection and news of the trade to Houston, I'm surprisingly finding myself believing the Mets.
I know I'm shocked too. If you've read my prior thoughts on the Mets ability to add payroll, you know I'm firmly in the Jerry Crasnick Camp that the Mets can't do it. However, in my opinion, Carlos Gomez wasn't adding salary to this team because of Bartolo Colon expiring contract.
One reason I believe the Mets here is their team doctor is David W. Altchek, MD. He is the preeminent Sports Medicne doctor in the country. If he truly said there was a hip issue, there was a hip issue. If you don't agree with me or believe the Mets (which I understand on both counts), keep in mind:
Gomez had an MRI on his hip earlier this year,
Gomez said he's afraid to run because of his hip, and
Gomez is having a down year.
In the prior two seasons, Gomez was named to the All Star Game. He averaged a .284 average and 24 homeruns. This year? He's afraid to run and his triple slash line is .262/.328/.423. His OPS+ the previous two years was 128 and 129. This year it's 105. This is a precipitous drop. He went from an All Star caliber player to an average player who complains of hip issues. Normally, I would say you could have a down year, but there are too many red flags to believe that.
I presume the Mets saw the medical reports from the doctors and were left with two options: 1) call it off, or 2) try to salvage it. It's possible they believed asking the Astros for money in the deal was a way of insulating themselves from risk. They might've thought if Gomez is healthy, great. If not, we have the money to get someone else. It's also possible the financial rumors were made up to salvage Gomez's value so the Brewers could trade him to someone else.
We know the Astros had no problem with Gomez's medicals. As Sandy Alderson correctly said, "[i]t's simple, our doctors thought the health risk was too great; Houston's doctors apparently felt otherwise." It could be that simple. Doctors disagree all the time. That's why we get second opinions.
Therefore, I don't think the Mets necessarily owe everyone an explanation. There shouldn't be any beat writers taking a victory lap as if they were a member of the Brewers' front office (especially when he reported Gomez's hip issues). The Mets gave us an explanation, and they might've avoided a huge mistake.
I wish Carlos Gomez the best of luck. He may be hurt; he may not be. All I know is Zack Wheeler is too high a price to risk.