Rumor Has It No More Trade Talk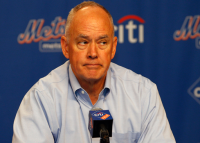 I'm done with analyzing potential trades and players. I don't think the Mets are making any more moves. I don't think Sandy Alderson had the money to spend. He was bluffing at that press conference because that's his job. He cannot announce to the world the Mets don't have the money to add a contract. That's foolhardy. It reduces your leverage in trade discussions, and it could keep fans away from the ballpark. Both are bad for business, and if anything, Sandy is a good businessman.
Therefore, I'm not going to address how well I think Gerardo Parra will fit on this team, especially given Juan Lagares' questionable health and offense. I'm not going to address how a Jose Reyes deal will benefit the Mets on the field and in attendance. I won't go into how Justin Upton has been lousy since April and will only drag the Mets offense further down. I've already wasted my breath on Jay Bruce. We all know Yoenis Cespedes and Carlos Gonzalez are not going to be moved by their teams.
Any other players the Mets get besides the aforementioned players are just background noise. They are bench parts that don't have the day to day impact the Mets need on the field. If the Mets acquire someone, I'll do a write up on the trade. If the Mets get one of the above, I'll concede how very wrong I was.
I'm not being pessimistic. I'm being realistic. I do think the team on the field can compete for the postseason and the World Series. When Travis d'Arnaud returns, the team is that much better. If David Wright returns, and is at least a shadow of himself, watch out. If Steven Matz returns, we're really cooking.
Instead of focusing on what could be, I'm going to focus on what is and enjoy that. I don't think people do that enough nowadays. I'm going to sit down tonight and watch the Mets game with my son until he falls asleep. I'm going to watch the team on the field, and I'm going to enjoy the game (hopefully). I'm just not going to sit here anymore and fret over what could be. I'm going to enjoy what is.