You're a Good Man, Terry Collins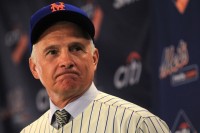 We don't always realize it, but professional athletes, coaches, and front office executives are human beings. We are too quick to call for someone to be fired or to call them incompetent. Sure, we all know Ted down the hall is an awful employee. He spends half his day on the internet and the other half of his day just being bad at his job. Everyone knows it, but no one is beating down the boss's door calling for him to get fired. Yet, we have no problem doing that in the world of sports.
Fans call to WFAN, make posts on Twitter, and even write about it on their blogs. Trust me when I tell you I'm not being judgmental here. I've done the same thing, and I will continue to do the same thing. For them, they know it's part of their role. However, what I have never liked about it is how we all (myself included) tend to dehumanize the person we want to get fired. These people are capable of wonderful and terrific things. For example, this tidbit appeared on the internet yesterday.
It really took me back. Do you remember when you lost a loved one? A kind word or simple gesture means a lot to you. It helps you through the grieving process. It is important to you not just that people care about you, but it's important that the person you grieve was important and will be remembered by other people.
Overall, Terry Collins has acted with dignity while the manager of the Mets. What I didn't know about him was level of empathy for a fan. He didn't owe that letter to anyone. He could have moved onto something else like figuring how the lineup card. No, he took the time to treat someone with dignity and respect. It was an amazing gesture.
I know in the future that I will continue to criticize Collins' decisions. While I may never call for him to be fired, I won't criticize anyone that does. That's the nature of his business. However, in the future, when I either criticize him or call for him to be fired, I will remember him as a human being. I will refrain from the ad hominem attacks. I will treat him with the respect that he showed one of our fellow Mets fans. He deserves at least that much.