Collins is Inconsistent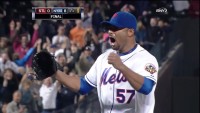 I was talking to one of my loyal readers a while back, my cousin Brian, and he said to me, "you really hate Terry Collins." Honestly, I don't. I think he's a good man that makes baffling moves. However, I will admit he irked me yesterday. Here is his quote regarding Matt Harvey:
It's hard for me to get it, because I am, at heart, the old-school guy. But I understand where it's coming from. Therefore, you adjust to it. Because I've said before, there's a lot of things in our game today I don't necessarily agree with. You either adjust to it, or get out. So, I'm adjusting to it.
I read that as a veiled shot at Harvey and the innings limits. I read that as Collins wanting to push Harvey in a relatively meaningless September game when he should be getting his team ready for the playoffs. I wasn't expecting that from him.
When it came to Johan Santana and his no-hitter, Collins was moved to tears over the possibility of ruining the guy's career post-surgery. Three years later, Collins said he was still affected by it. He says he's learned from it, and he will act accordingly. I don't think he was lying. I just think old habits and views are tough to break.
I think he admires Johan for going out there and getting it, as we all should. I think he has disdain for the innings limits, but he just won't come out and say it. It's amazing the man crying over possibly ruining a guy's career for a moment of glory is irked by getting a young pitcher rest so he can pursue his moment of glory.
I thought Collins learned something three years ago, and maybe because of that, he was the right guy to handle Harvey this year. I saw a guy that wanted to protect his players. I saw a guy who knew the right time to go for it. I guess I was wrong.