Mets Need a New Manager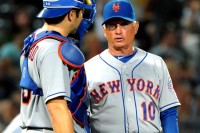 In 2008, the Milwaukee Brewers went all-in. They traded their best prospects for CC Sabathia. They rode him hard down the stretch. They were doing everything to make the playoffs. They even fired their manager with 12 games left in the season. It might've been reactionary to a late losing streak. It might've been a response to their current manager being over his head.
Before continuing, I feel it's important to note that Terry Collins is a good man. I also need to note, Collins should be commended for holding this team together when the season was seemingly falling apart. However, this is a different roster. There are different stakes.
The first issue is the lineup construction. Here's last night's lineup with their OBPs for this year and their career:
Curtis Granderson .352/.340
Yoenis Cespedes .328/.318
Daniel Murphy .332/.333
David Wright .377/.377
Kelly Johnson .303/.330
Travis d'Arnaud .348/.310
Michael Conforto .360
Ruben Tejada .331/.328
Pitcher's Spot
Note, I gave Johnson's numbers against RHP because he's being used as a platoon player. Due to the small sample size, I gave Conforto's total OBP even though he's a platoon player.
This lineup doesn't make sense. You want higher OBP hitters ahead of the big bats. That's why Cespedes should hit cleanup with Wright batting second. Wouldn't you rather have Wright on base for one of Cespedes' "Feats of Strength"? The answer is yes. It makes sense. Look at it this way: if Wright is going to single or double and Cespedes is going to hit a homerun, in which order would you like that to happen?
Now, I've heard the argument that the Mets have won seven in a row scoring a lot of runs; why change anything? My first response is that's not a good reason. Just because the Mets scored a lot of runs doesn't mean you couldn't have scored more runs with a better lineup. My next response is you beat the two worst teams in the NL in their bandbox ballparks. They're one and two in most runs allowed in the NL. OF COURSE YOU'RE GOING TO SCORE RUNS!
My other problem with Collins is the in-game strategy. He's had some problems this season, but last night was a new low. It's like he didn't know you could double switch. When Logan Verrett could've given multiple innings with a short bullpen and no Tyler Clippard, Collins didn't double switch him into the game. As a result, Verrett went one inning and was pinch hit for as we was due up second. This led to some more odd decisions.
With Sean Gilmartin due up third in the tenth, and Collins wanting multiple innings from him, he let Gilmartin bat even though he still had Wilmer Flores [standing ovation], Juan Uribe, and Anthony Recker on the bench. By the way, they never entered a game in which two relievers got an AB.
Then in the same inning it was so important to have Gilmartin in, Collins brought in Carlos Torres. I can't imagine any situation in which it was alright for Gilmartin to bat and that includes his .400 batting average. The Mets won despite Collins' terrible managing. Could you imagine if that happened in October against a much better team? The Mets probably won't be as lucky as they were last night.
Look, Collins has done a nice job here. He was handed a thankless job, and he did a good job. In most seasons, the Mets outperformed their expectations. A few times, they were competitive to the point where we actually considered that they may make a deadline trade. Now, they have a real roster, and they may need a better manager.
The problem is who becomes the next manager. No, it's not Wally Backman. You don't turn to someone with no major league managerial experience now. I think the answer is Bob Geren. He has prior managerial experience, and he's the bench coach. It would be a smoother transition.
Now, I understand if people want to keep Collins. As I've said, he has some positive attributes. However, if your reason is you want to keep the status quo because things are working now, I can't agree with you. You make decisions to try to win the World Series, not seven games against bad baseball teams.
Seriously, when people are now advocating for Collins to be named the Manager of the Year, we should really be talking about if a change is necessary. When Collins can't double switch and lets his relievers bat with good options in the bench, the time for a switch may have arrived.