Congratulations Terry Collins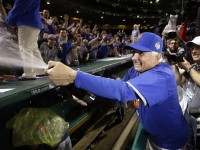 Whatever happens tonight, it's been a good ride for Terry Collins. He's shown his humanity. He kept the Mets together when all hope seemed lost around the All Star Break. He was the manager of a team that went to the World Series.
For all of this, he was rewarded with the two year contract extension he wanted. Also, he was named as a Manager of the Year finalist. After managing a rebuilding Mets team since 2011, he finally got a chance to manage a winner, and they won the National League.
He's spent his life in baseball. He had some issues with the Astros and Angels teams. He had trouble adapting to the culture in Japan. However, he returned to what he did best – developing young talent as a minor league coordinator. Regardless of the GM you credit, Collins has a role in the development of most of this team first as the minor league coordinator and then as manager.
Given the run to the World Series, I'd say Collins was successful. He's being recognized for that today, win or lose. Today's not the day to point out his faults, it's time to celebrate a man who has given his life to baseball. Baseball is a better sport for having people like Terry Collins in it.
Congratulations Terry Collins for receiving recognition for all you've accomplished and the positive imprint you have left on the game.