Collins Cost the Mets the World Series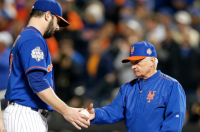 In late August, I began to panic. I thought Terry Collins was cost the Mets either a playoff spot or a series with his in game management. Sometimes it sucks to be right.
He had a terrible World Series. Just terrible. As a wise and independent Keith Law verified, Collins managing really cost the Mets in Games 3 & 4. The full details are here. The quick synopsis is from Game 2 on Collins grossly mismanaged his bullpen. He had the wrong guy in the wrong spots, and then he asked Jeurys Familia to bail the Mets out of an impossible situation.
Now, it should be noted the players on the field win and lose games. Collins didn't force Daniel Murphy to miss the grounder in Game 4. He didn't force Lucas Duda to choke on a throw home for the last out when Eric Hosmer was dead to rights. With that said, Collins didn't put his team in the best position to succeed. His mistakes cost the Mets the series.
I'm not going to regurgitate everything from Games 1 – 4. I'm not going to go into the Game 1 & 2 pitching strategy again. I just want to focus on Game 5 here. This game highlighted every weakness he has as a manager.
The first big decision was in the sixth inning. In actuality, it wasn't a big decision. It was a no brainer that Collins blew. Yoenis Cespedes fouled a ball off his kneecap and went straight down. He was down for a while. He was limping even when he finally got back up. For some reason, Collins let him hit.
Yes, it was a two strike count. You could anticipate that a cold hitter off the bench, presumably Juan Lagares, would've struck out or made an out there against Edison Volquez. Instead Cespedes hit. He was given a pitch to hit, and he popped it up. The Mets are lucky he did because the way he was limping, it would've been an automatic double play if the ball was hit in the ground.
We all know the next mistake. He left Matt Harvey in too long. Personally, I would've pulled Harvey after right, but admittedly, my heart wanted Harvey out for the ninth. Apparently, Collins had the same issue. He pulled Harvey until Harvey talked his way back into the game. Like the rest of the planet, I thought Harvey had to be removed after he walked Lorenzo Cain.
A double by Eric Hosmer later, and the game was 2-1. Collins then lifted Harvey with one out with the tying run on second with no outs. He again put Familia in a bad spot. Again, the defense blew it. Royals tied the game.
The lady fateful decision is one that had t gotten much discussion. I had no problem with Addison Reed in the 12th, even if he's the only one that had pitched in every game in this series. My problem was how long he stuck with Reed. Reed has been terrific with bases empty, not so much with runners on base.
Once Jarrod Dyson pinch ran for Salvador Perez, after his leadoff single, you knew Reed was in trouble. There's holding on a runner and there's being distracted. Reed was distracted and lost the zone. Predictably with Travis d'Arnaud's arm, Dyson stole the base. No one was up at this time.
No one would be ready until two runs were home and the bases were loaded. He brought in Bartolo Colon. Now, while this was happening he never thought to warm up Hansel Robles even though: (1) he would get warm quicker; and (2) he's been terrific. Colon allowed a bases clearing double to Lorenzo Cain. What was a 3-2 or 4-2 game was now a 7-2 game.
Collins' inaction in the 12th led to a situation where the Royals had an insurmountable lead. Game 5 and the series was over.
My heart does break for Collins. He's shown himself to be a good man. He waited his whole life for this moment. He's been good with the clubhouse. With all that said, he cost the Mets the World Series.