This Story Won't Gomez Away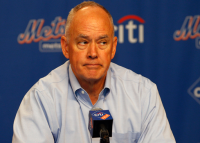 Look the main purpose of this blog is my reflections on the Mets as I'm raising my son to hopefully become a Mets fan. Here's some advice I'm giving my son in the future:
Don't rush to judgment, and
We're now beginning to find out Carlos Gomez's hip issue was a "just a red herring." It appears the issues for the Mets might've been financial . . . as it always is.
Apparently, the Mets wanted to include Juan Lagares in the deal, who is a better player than Wilmer Flores, due to financial concerns. For their part, the Brewers didn't want Lagares because of his questionable health. So the Mets then relented and agreed to trade Flores until they didn't.
The Mets then called the Brewers to include money in the deal. Presumably because the was a fair value deal, the Brewers balked. They have Gomez under contract next year so they don't need to make a rushed panic decision. Apparently after the overtures for more money were turned down, the Mets discovered Gomez's hip issue.
Who do we believe? I do think there is some merit to the point that no one went on record. However, Tom Haudricourt is the Brewers beat writer, and accordingly, I presume he knows which sources he can trust and not trust. I don't know his reputation or his work, so I'm not going to begin besmirching him now.
There may be some merit this came down the next day after Boras is on the rampage over the hip issue. Keep in mind it was Haudricourt, himself, has reported on Gomez's hip issues. However, if the hip was such an issue, why is Gomez playing everyday?
Now, let's move onto the Mets. Can they be trusted? This should be met with a loud and resounding NO! Time and time again, this organization has lied about its financial wherewithal only to not spend a dime. They have been so arrogant as to say they need more attendance to increase payroll. They've gone so far to question Mets' fandom that they sent out a loyalty oath.
Furthermore, the Mets needed the Oakland A's of all teams pick up money in the Tyler Clippard deal. In exchange, the Mets gave up way too much value in a potential future ace in Casey Meisner. It's absurd. The rumors of Lagares' potential inclusion in this deal over Flores only fans the flames.
The Mets say there's money to add a significant contract. I said yesterday adding Gomez doesn't add a significant contract. First off, Gomez's contract is a relative bargain. Second, if they acquired Gomez, it would've been an excuse as to why they can't reinvest Colon's $11 million coming off the books (oh and they'll pocket $2 million). Third, they've said money from Wright's injury and Mejia's suspensions that they have not fully reinvested yet.
At this point, I really do not know who to believe. While we have a million reasons not to believe the Mets, the fact remains Gomez had a hip issue that merited an MRI. Maybe the Mets saw a hip issue and thought if the Brewers don't give us some financial support, we have to walk. I wonder if the Brewers are trying to preserve Gomez's trade value. I wonder if there is an honest dispute over Gomez's hip. I wonder what the Mets and Brewers do next.
The one thing I know is true is the Mets are dangerously close to losing their good will with the fan base.