This Game Recap is Delayed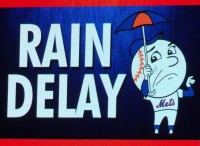 Initially, the Mets seemed poised for a laugher powered by a Curtis Granderson three run homerun. Juan Uribe joined the fun with his first Mets homerun. However, the bullpen completely unraveled.
Bobby Parnell couldn't manage pitching two days in a row or a 7-1 lead. When he loaded the bases with one out in the seventh, Terry Collins made the first of his two fateful decisions. He brought in Hansel Robles, who gave up a grand slam to Derek Norris.
Two innings later, Jeurys Familia came in for the save, and he got off to a terrific start. He quickly recorded the first two outs, and he had an 0-1 count to Derek Norris (who as of right now is 5-5). Of course the umpires called a rain delay.
This brings us to Terry Collins' second fateful decision. He had Familia come back in after sitting for over a half hour. He then allowed a bloop single to Derek Norris. Matt Kemp followed with a single to the left side. Finally, Justin Upton hit a three run homerun to put the Padres up 8-7. Familia blew his third save in a row. I'm still shocked Familia does not have a save since the All Star Break.
Of course after approximately 10 minutes of play, the umpires saw it fit to call another rain delay. Understandably, the grounds crew had trouble getting a rain soaked tarp on the field.
I don't disagree with either of Collins' bullpen maneuvers. He should be able to reasonably anticipate his relievers can hold a six run lead. He should reasonably anticipate that his closer save a game with a two run lead. He should've sent Familia out there. Think about it? Who is he going to warm up? Tyler Clippard already pitched. Familia was your best shot.
However, I have to say the umpires did a horrible job. You CANNOT delay a game with two outs in the ninth and then delay it again after the end of the top of the inning. It doesn't excuse Familia's performance, but it may explain it.
I'm not anticipating them to restart this game anytime soon. Not only is it still raining heavily, but the field also needs a lot of work. It's very possible this game is suspended. Even if it isn't, they will not be playing for a while.