More Homerun Please Daddy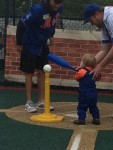 Normally, when my son sees a television, he starts asking for Elmo. When you don't acquiesce, he begins to become upset. As you don't want to upset your child, you usually relent.
Yesterday, I didn't immediately relent. I just wanted to finish watching the highlights of the Wilmer Flores' walk off homerun before putting in that little monster. Before my son could protest, he saw the ball leave Flores' bat. First, he let out a "Whoa!" when he saw it go over the left field wall. Then he yelled "Yay!" when he saw the Mets players and coaches celebrating. We shared a high five.
Now, he wasn't asking for Elmo. He was asking me to replay the homerun. Thank God for the Roku and You Tube. After each time we saw it, he would say "more homerun please daddy." We must've watched that homerun 15+ times in a row yesterday.
Then I took out his Little Tykes' baseball set. After he hit the ball off the tee (we alternate sides of the plate), he ran around the house screaming homerun! Apparently, both 20 month olds and chicks dig the long all. This went on seemingly forever, and I loved every minute of it.
Last night during the game when everyone came up, he said, "homerun please!" Lucas Duda was the only one who obliged. Although we missed the first one to bath time, he saw the second. He was excited. Remember, Duda is his favorite player.
I used to be happy just because he showed an interest in the game. Now that he knows what a homerun is and he wants to see one is all the more awesome. The fact that he created the moment in our living room still astonishes me. While Duda's two homeruns were key in the Mets' win, my favorite homeruns yesterday were the ones hit in my living room.