Lucas Duda Provides the Fireworks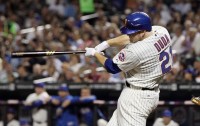 In case you didn't know, Lucas Duda made sure you knew tonight was Fireworks Night. I told you Duda is awesome.
His first homerun broke up the no-hitter. The second homerun let deGrom off the hook. deGrom deserved to be let off the hook too. He didn't have his best stuff, and he was fighting it all night. However, he gave the team six solid innings, allowed only two runs, and gave the team a chance to win. Duda took advantage of that chance.
As if the two homers weren't enough, Duda also doubled in Curtis Granderson in the eighth. In this inning, we saw the impact of Yoenis Cespedes' presence in the lineup. After Granderson's double and Daniel Murphy grounded out to the pitcher, Cespedes was intentionally walked. Before tonight there was no one in the Mets' lineup who would've merited that. Instead of now feeling pressure to be the entire offense, Duda was able to relax and deliver . . . and boy did he deliver.
After Hansel Robles shut the door in the right and Duda single-handedly carried the offense to a 3-2 lead, Jeurys Familia slammed the door shut in the ninth. This looked like the Familia of the first half.
My only qualm tonight was the lineup. It looked like Terry Collins was still drunk from celebrating last night's win and the Cespedes acquisition. I know we all love the Wilmer Flores' story, but this is a pennant race, and you need to field your best team (even if he almost hit a HR). That team has an outfield alignment of Cespedes in left, Kirk Nieuwenhuis or Juan Lagares in center, and Granderson in right. The only time you want Kelly Johnson in RF right now is when he's signing autographs before the game.
Luckily, this didn't hurt the Mets. Also, it was good to see Collins put in Lagares late for defense. It was better to see Duda's offense and Familia' dominance again. It's even better to be a game out with Noah Syndergaard tomorrow. Lets Go Mets!