Harvey is Real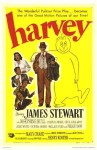 It looks like the Mets made the biggest addition at the trade deadline this year. Yoenis Cespedes? No. Travis d'Arnaud? Nonsense. The Mets got Matt Harvey back. I don't think Mets fans believed he was real anymore.
Harvey is a 1950 film starring Jimmy Stewart. Jimmy Stewart's character is a grown man whose best friend is a 6'3″ invisible rabbit. Everyone thinks he's crazy that he had seen this rabbit. A comparison for people more my age is Snuffleupagus. Anyway, I was starting to feel like Jimmy Stewart.
For his part, Harvey thinks he finally put it all together in his last start. It showed tonight. He was perfect through 5.1 innings. He got out of a subsequent jam without letting up a run. In the seventh, there was some soft hits starting another rally. However, he got out of that jam when Juan Lagares reminded everyone he's a terrific CF in chasing a ball down in the right center field gap. Overall, Lagares seemed to have an extra hop in his step tonight. It really showed in the field.
The eighth inning was not kind to Harvey. There was a phantom HBP call, which was upheld by replay. Two singles later, and the score was tied at one. A good defensive SS (which the Mets ha no interest in at the trade deadline) would've at least knocked it down.
Initially, Tyler Clippard came in and made Sandy Alderson look great by striking out Jayson Werth looking on a 3-2 count after a lengthy at bat (it wasn't a strike). He then walked two batters in the ninth forcing Terry Collins to bring in Jeurys Familia, who got out of the inning.
After the Gomez drama, we finally had a Wilmer Flores sighting. With Collins' platoon system, he started on 2B, made a nice defensive play, and knocked in the first run that looked like it was going to hold up. He had received three standing ovations from the fans. Sorry make that FOUR with his walk-off homerun in the twelfth. You have to love and respect this kid.
By the way, the platoon system was on acid today. With the lefty Gio Gonzalez starting, the Mets went with Wimer Flores at second, Juan Uribe at third, Juan Lagares in center, and Eric Campbell in left?!?!? Furthermore, Daniek Murphy was at first because, why not?
This was the biggest win of the year in the biggest series of the year. Because the Mets smartly set their rotation coming out of the All Star Break, they throw Jacob deGrom tomorrow and Noah Syndergaard on Sunday. Oh yeah, some guy named Yoenis Cespedes makes his debut for the Mets tomorrow. I heard he can hit the ball out in Citi Field.
Time to get excited Mets fans. We have meaningful games in August.