Who's in First?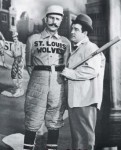 Good morning Mets fans. For some reason, food tastes better this morning. The air smells a little sweater. Overall, everything seems just a little bit better. Why? Here's why:
AL East
Team W L GB
Blue Jays 63 52 –
Yankees 61 51 0.5
NL East
Team W L GB
Mets 62 52 –
Nationals 58 55 3.5
That's right. The Mets are in first, and the Yankees aren't. It seems like an Abbott and Costello routine. Not even ol' Sebastian Dimwitty could figure this one out. Do you know the last time the Mets were in first place and the Yankees weren't this late in the season? 1990!
Here's a snapshot of what things were like in 1990:
We know now that 1990 was the last hurrah for those 1980's Mets teams. Now, it just seems like the beginning. Like I've said before, it's a lot easier to raise a Mets fan when the Mets are good. It's also easier when they're better than the Yankees.
I know this may only last a day, but let's enjoy it while it lasts. I get a feeling the Mets are in first to stay. Let's Go Mets!