Why Conforto Needs to be Sent Down Now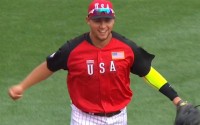 We all know Michael Cuddyer is about to be activated from the DL. As anticipated, he will return to a reduced role, which to his credit, Cuddyer is accepting. Mostly, it seems like Cuddyer will PH and play against tough lefties in place of Lucas Duda or Curtis Granderson.
What we don't know is who is getting sent down to make room for Cuddyer: Eric Campbell or Michael Conforto. Sandy Alderson has made overtures that Conforto may stay up with the team. That's a mistake.
The first reason is you're looking to win now. Here is Conforto's overall triple slash line: .222/.326/.389. I know it's a small sample size, but with him being drafted last year, there's not much more to go on. If he's sent down, I anticipate, the Mets will replace him with Kelly Johnson against righties and Juan Lagares against lefties.
Against righties, Johnson has a career triple slash line of .243/.330/.420. Against lefties, Juan Lagares has a career triple slash line of .279/.325/.419. Admittedly, these numbers aren't great (or even that good). However, these numbers are better than what Conforto is putting up right now. Also, if Cuddyer is playing against tough lefties in place of Granderson or Duda, you know the Mets will also bench Conforto.
The second reason is you're going to have to send him down eventually. David Wright is beginning rehab games tonight. Whenever he's ready to be activated (I'll have update on this later), another player will have to be sent down. At that time, we know it'll be the winner of the Conforto/Campbell showdown from today. Wouldn't it behoove the Mets to send down Conforto to work on things now while there are still AAA games left to be played? Campbell is who he is. Conforto will get better.
We know Conforto will be called up in September when rosters expand. Would it be better to have him playing part time for two weeks or would it be better to get closer attention in the minors? Kevin Long has to spend time with everyone now. Let Jack Voigt give Conforto work closely with Conforto. This way when Conforto returns he will be even better for the stretch drive and playoffs.
The last reason is he's still a prospect. I agree there is some value to sitting on a major league bench. However, I think there is value in playing everyday. He's been on the bench for 11 games. If he gets sent down now and called up in September, he will sit on a major league bench for an additional 31 games. Does he really need the additional 20 games on the bench? These are 20 games that can be spent playing and improving. Let him improve.
Overall, I've been really impressed with Conforto. So much so that I want the Mets to maximize his potential. His potential isn't getting maximized on a major league bench. Let's put the best team out there and let Conforto improve.