Are the Mets Reckering Their Prospects?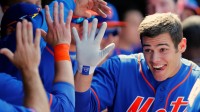 I don't understand what the Mets are doing with their prospects right now. First, they are actively stunting the development of Michael Conforto by keeping him in the majors and not playing him everyday. Keep in mind, this is a player, they didn't want to call-up in the first place.
Additionally, there is the constant noise over the six man rotation, but their young stud muffins are set to far exceed their innings limits. Plus, these prized arms' aches and pains are largely ignored until it becomes more serious. They even have Dan Warthen playing doctor. It's inexcusable.
Their treatment of Kevin Plawecki is almost as ponderous. I understand he might've been the best option at backup catcher, but it's not like he's been good. It's just that Anthony Recker and Johnny Monell have been that bad. That was, in part, the rationale behind keeping Plawecki up when Travis d'Arnaud came off the DL on July 30th. Let's see how that worked out for Plawecki:
3 games played out of 11l
.111 average
12 extra days of accumulated service time
In essence, the decision was just short of being a disaster. Plawecki is going to be a Super Two player. Overall, he's hit .228/.283/.296. Those are ugly numbers, especially when he's a .292/.368/.435 hitter in the minors. Obviously, he should've been in the minors trying to get better. For those that argue that there's value sitting on a major league bench, it sure hasn't helped him thus far.
Plawecki probably would've benefitted from time in AAA making him a better player. d'Arnaud did the same last year, and he's the better for it. Plawecki didn't, and he's worse off. The Mets catching situation is also worse off.
Overall, the Mets prospects are worse off the past two years in how they've been handled. I only hope Plawecki and Conforto can overcome it because they have real promise . . . promise that isn't being g cultivated by the Mets.