Thor LEFT Out There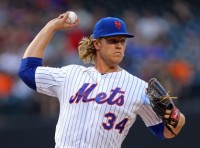 Way back when the Mets used to be good, an old friend and I would always lament these days games. It wasn't just because we had to intermittently listen to the game on the radio, but it was also because odd things tend to happen to the Mets in weekday day games.
I was reminded of that a few weeks ago with that bizarre game against the Padres. With the way Noah Syndergaard started the game, I was afraid of another one of those games. In the first he let up two solo homeruns. The Mets got him the lead in the bottom of the first, and he gave it away in the third.
It looked like this was going to be a high scoring game, and Thor would be lucky to get through five. The Mets upheld their end of the bargain by scoring 12 runs. The Rockies wouldn't score past the third for a 12-3 final. Amazingly, Thir finished with five strikeouts, 2 walks, four hits, and three earned runs in seven innings. Good for Terry Collins for sticking with him.
This may not have been the game in which he had his most impressive stuff or control, but it might've been his most impressive game to date. It's one thing to win when it's all working. It's another to have a rough start with less than your best stuff and still find a way. This is the type of game where you say he could join Jacob deGrom and Matt Harvey in being considered an ace.
Offensively, the lefties were hitting on National Lefthanders' Day. Curtis Granderson went 1-3 with a walk, two runs scored, and a three run homer. Daniel Murphy went 1-5 with a run scored and an RBI double. Kelly Johnson went 3-4 with a double, a home run, a run scored, and three RBIs. Michael Conforto went 2-3 with a walk and three runs scored. The only left not in on the action? Lucas Duda, who missed his third straight game with his back injury.
It was also great to see Juan Lagares hit a pinch hit three run homer. He's been going well pretty lately. It'll be great to see him continue because the Mets could use his glove in the field everyday.
On another note, you have to admit you feel great about this team right now. I'm sure there are fans still scared from 2007 and 2008, but this team isn't that team. Plus, the Nationals aren't the Phillies. The Mets swept the Rockies and made them look like a last place team. The Rockies beat the Nationals two out of three.
I'm not guarantee in a division title, but I think it's fine to feel confident and enjoy these games. Don't let bad memories stop you from enjoying these new ones.