BACK to Having This Conversation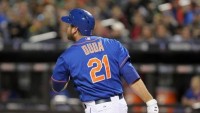 We all have those conversations that we just hate having. For some of us, it's that conversation when it's time to go on a diet. For others, it's about the household budget. For all Mets fans, it's about injuries.
They all start out seemingly innocuous and become something more. When it originally seems bad, we're told it's not and the player sits on the bench until they can hobble on the field for a PH appearance.
Prior to this year, it was the awful way, the Mets responded to Matt Harvey's and Zack Wheeler's arm complaints. It continued this year with Dan Warthen playing doctor with Steven Matz.
Also, this year we saw David Wright's hamstring injury become a spinal stenosis issue. Then the Mets refused to put Michael Cuddyer on the DL, severely limiting the team. Now, Lucas Duda has missed three straight games with an unknown back injury.
Yes, I know it says stuff back in the link, but that's a symptom; not a diagnosis. For example, a throbbing leg is a symptom. When x-rays show a fracture that's a diagnosis. Duda has missed three straight games. It's time to get some tests.
Honestly, I can't believe I'm saying this after David Wright. You'd think the Mets would be extra sensitive to back injuries. However, when looking at the facts, I'm naive. You'd think the Mets would've show extra precaution when a young starting pitcher has arm complaints after Harvey, yet they ignored Wheeler.
I'm not calling for Duda to be put in the DL yet. You need to know what the problem is before making that decision. However, I will note that when they finally put Cuddyer on the DL, he got better, and it looks like he's playing better.
I'd rather see Duda get right than try to play through this and get more hurt. While we know rest may not be the best cure, he can do the exercises needed to get his back strong for the rest of the year. It's not about RIGHT NOW; it's about this season. You need healthy players for the stretch run. First base can be manned by Cuddyer and Daniel Murphy in the interim.
Please let the Mets learn from their mistakes and take care of Duda. They'll need him.