2015 NLDS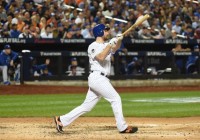 There appears to be two types of Mets fans: (1) those who love Daniel Murphy; and (2) those who don't. I'm in the former camp. Gary Cohen is in the latter (full audio).
Now, it is way too early to do a postmortem on the Mets season. It's too early. There's still an important Game 5. However, I can't fault Joe & Evan for addressing the topic with Gary Cohen. You don't get him everyday, so when you get him, you want to address everything with him. That includes addressing the free agency situations of Yoenis Cespedes and Daniel Murphy.
I don't disagree with Gary regarding how the Mets will treat the Cespedes and Murphy situations. I agree that neither one will be back. Where I disagree with Gary is his statements about Murphy.
First, he called Murphy a "net negative." Frankly, that's nonsense. I understand Murphy's flaws. He's not a high .OBP guy. He sometimes makes curious fielding and baserunning mistakes. However, calling Murphy a net negative is a gross overstatement.
If you're using WAR, he's generally been between a 2.5 – 3.1 player, which means he's a solid starter. That's nothing to sneeze at. If you're using weighted runs created, or wRC+, his range is between 107-126 in the years he's been a starter meaning he's an above average player. Basically, Murphy's a good player; not a "net negative."
My other dispute with Gary is that Wilmer Flores and/or Dilson Herrera can take Murphy's spot. First of all neither of them is the hitter Murphy is now. Murphy is a career .288/.331/.424 hitter. This year he hit .281/.322/.449. This year Flores hit .263/.295/.408, and Herrera hit .211/.311/.367. These two are young (22 and 20 respectively) with potential, but they're not in Murphy's league as a hitter yet.
This is a playoff team now. Next year regardless of their free agency maneuvers, they will be a possible contending team with their pitching staff. It would be better to have some proven hitters like Murphy. It would also be nice to have Murphy as an insurance policy.
This year the SS situation was never fully resolved. It seemed like Ruben Tejada finally wrestled the position away until Chase Utley's dirty "slide." It's the second time he's broken his right leg. Flores may be forced to play more SS than anyone would like next year.
Also, who knows about David Wright? The Mets want to limit him to four games in a row. That means you need someone capable of playing third base on a semi-regular basis. It would be preferable to have someone like Murphy who can move other there and competently play the position.
That doesn't mean I think the Mets should give Murphy a huge free agent deal. Rather, I would start by offering him the $15.8 million qualifying offer. If he accepts it, great. You have him for one year while you wait for Herrera to develop and you find out about Wright's back over a 162 game season. It's an expensive insurance policy, but it may be a necessary one.
If he rejects it, you at least get a compensation pick if he signs elsewhere. Alternatively, it will limit is market allowing the Mets to negotiate with him on their terms. With all that said, I don't want to be talking about this. I want to talk about his two homeruns this postseason. I want to talk about Game Five. I want to be talking about the NLCS.
So, let's focus on what's important here. That's Game Five. The only Murphy discussion now should be how he can help the Mets win that game.