Jake and the Fatman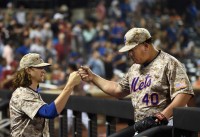 This postseason the Mets have had two breakout pitching stars: Jacob deGrom and Bartolo Colon.
deGrom came out in Game 1, and had a historic night. Anytime you're in the conversation with Tom Seaver, you know you're in rarified air. He has proven that the Mets made the right decision in making him the Game 1 starter. If the pitched anything like Game 1 of the All Star team, the Mets will be in great shape.
If the Mets need to go to the bullpen, they can go to the suddenly reliable Colon. In this NLDS , Colon has pitched in three games going four innings allowing not much more than a homerun to Adrian Gonzalez. He's struck out five, and he has a 0.750 WHIP. He's become the Mets best and most reliable reliever not named Jeurys Familia.
Tonight, in this do or die Game 5, all hands are on deck. Hopefully, the Mets won't need anyone else besides Jake and the Fatman before handing the ball to Familia for the save. If the Mets follow this formal they will earn a trip to the NLCS.