Jake Will Be Great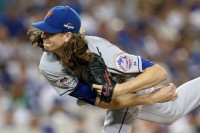 Sure I could've gone with deGrominant or some other meme. They're childish (in a good way) and fun. However, this is a serious time. It's a time for men.
This is Jacob deGrom's time. He was supposed to be a reliever, but he forced his way into the starting rotation. He became the Rookie of the Year. He became an All Star. He was THE STORY of the All Star Game. He earned the right to be the Game One starter. He was deGrominant in that game (sorry, I couldn't help myself).
You know what else? He's been a stopper this year:
Looking for confidence? Since May, deGrom has pitched 11x immediately following a #Mets loss. 1.60 ERA, 80 K, 13 BB. The Mets won 8. @SNYtv

— Steve Gelbs (@SteveGelbs) October 14, 2015
He has given the Mets a chance to win whenever they needed it most. That's tonight. If all of this doesn't show you he has an advantage tonight, there's this:
https://twitter.com/jareddiamond/status/654462405716504577
There is every reason to believe he will be great tonight. There are legitimate reasons to believe deGrom will be better than Zack Greinke. Seriously, you have to invent reasons why deGrom and the Mets won't be great tonight.
The Mets have a huge game tonight. I'm confident they can win tonight because they have deGrom on the mound, and he will be great.
Lets Go Mets!