Time to Slay Some Demons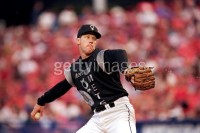 Of course the Dodgers are having Orel Hershiser throw out the first pitch tonight. Hershiser was the main reason for the first time I was ever scarred by sports. The presence of Jimmy Rollins and Chase Utley make it even worse.
As a sports fan, I carry a lot of pain from these three men. As a child, I was crushed by 1988. As an adult, I was left flabbergasted by 2007 and 2008. It meant that I couldn't take my father to a World Series game. Once again, the Dodgers, Rollins, and that coward Utley stand in the way.
I'm not sure Mets fans can take another loss here, not psychologically. All the euphoria that ensued after the Yoenis Cespedes trade would be gone. The anger would return. The same anger we saw prior to the trade deadline. Initially, it would be directed at Utley. Then Terry Collins. From there, who knows?
That's why this is the biggest game the Mets have played in nine years. It's not so much advancing to the NLCS as it is who they're playing. Under different circumstsnces, winning the NL East might've been enough. Not now. The Mets have to win tonight. They have to stay those demons.
I have to take my Dad to a World Series game.