Who's Getting the Big Hit?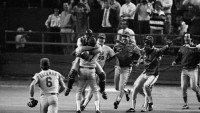 In order for the Mets to win tonight, Jacob deGrom needs to be great, and he will be. However, at some point, the Mets will need to get a big hit. Anyone is possible. Here's why everyone on this roster is capable of it:
Yoenis Cespedes because he's already homered off of Zack Greinke in this series

Michael Conforto because like Cespedes he has too.

David Wright because he already has a big hit in this series.

Curtis Granderson because he's been the best Mets hitter in this series

Wilmer Flores because it's an emotional game, and he's at his best when he's emotional

Lucas Duda because he's due, he's hit Greinke, and because he knows how to clinch things

Daniel Murphy because he's clutch, and he knows how to give deGrom run support in this series
Travis d'Arnaud because he's had one big game in this series and is due for another

Kirk Nieuwenhuis because he already has a huge pinch hit homerun in a big spot this year

Juan Lagares because he's more than a glove, and he's already hit a homerun in Dodger Stadium

Michael Cuddyer because he still has something up his sleeve

Kelly Johnson because we knew the Mets were onto bigger and better things when he homered in his first game as a Met (against the Dodgers)

Kevin Plawecki and/or Matt Reynolds because you never know who's going to get the big hit

It'll happen tonight. If you need more inspiration to believe it's true just remember what happened 19 years ago today:
LETS GO METS!