Meet the Matt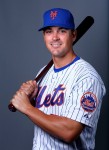 After Ruben Tejada's injury, the Mets had to replace him on the roster. We knew Wilmer Flores [standing ovation] was going to be the starting SS, but the Mets had to pick a backup. Even though Kelly Johnson played one game this year, he wasn't going to fit the bill.
The Mets chose Matt Reynolds because he's a SS. He's the Mets 12th ranked prospect. He had a disappointing year in AAA. He dropped from a .335/.385/.479 hitter in AAA to a .267/.319/.402 hitter. Part of that may have to do with his mid-season elbow injury. His worst month was July when he went on the DL.
Overall, it doesn't really matter how he hits. Flores was original at SS because of his bat. Reynolds just needs to be ready to be called upon. Most likely that means as a pinch runner (13/17 in SB attempts this year) or as a defensive replacement. He's been improving defensively.
With all that said, he most likely will not play today or at any point in the playoffs. If he does get his chance, I would not discount him from doing something great.