The Unlikely Heroes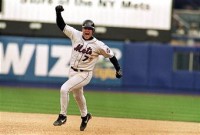 Fifteen years ago today, I went to my first Mets playoff game. Somehow, even with Mike Piazza injured, the Mets lead the NLDS 2-1. They found themselves in a extra innings looking for just one big hit:
I don't think there was anyone on the planet who thought Todd Pratt was going to hit a walkoff, series-clinching homerun.
The next year, the NLDS heroes would be Benny Agbayani . . .
. . . and Bobby Jones
Who's it going to be this year? Could it be Kirk Nieuwenhuis, who's already had a huge pinch hit homerun this year:
How about Wilmer Flores:
Whoever it is, that player is about to forever become a part of Mets lore.
LETS GO METS!