I Hate the Dodgers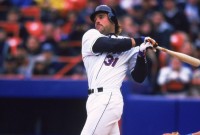 I was lucky. When I first became interested in baseball the Mets were really good. They finished second or higher in the NL East from 1984 – 1990.
During that time span, I was only concerned about the Mets. Hating the Yankees didn't even make sense yet. They were not good enough to be hated. Besides, they played in the American League, and they never played the Mets in the regular season. I really didn't hate any teams until 1988.
I remember the exact moment. It was the day of my aunt's bridal shower, which was being hosted at my parent's house. The men were thrown into the basement to watch the NLCS. With the game tied at three, Jay Howell got caught cheating. He was using pine tar. When the Mets went off to score five runs after his ejection, it was the first time I experienced schadenfreude.
The moment got me really interested and focused on the 1988 NLCS; more than an eight year old should. I lived and died with that team for the next four games. I was devastated when the Mets lost. I then hate watched the World Series for the first time in my life. Kirk Gibson's homerun was one of the greatest moments in MLB history. However, I was just angry the Dodgers won again.
My hatred of the Dodgers would only grow from there. Darryl Strawberry was my favorite player. As a kid, I had no real grasp of free agency. The Dodgers would teach me all about it. I was in the car with my Dad listening to WFAN after we visited Nana. I then heard that Strawberry signed with the Dodgers.
I didn't understand. How could my favorite player go to the Dodgers? He was a Met. I was crushed. It got worse. I also loved Gary Carter. Later that offseason, he would also sign with the Dodgers. I remember the first Mets-Dodgers game in 1991. I was sitting in my parent's basement playing Strat-O-Matic with my Dad when the game started.
As I grew older, I came to hate other teams more. However, I always hated the Dodgers. It's what made the Mike Piazza years even sweeter. It's what made the Paul Lo Duca double tag out at home plate even better. It's why I'm even more excited for this series.
Lets Go Mets!