I Hate the Pirates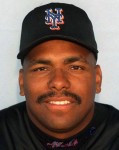 It's funny. The three divisional format in every league was supposed to, in part, amp up rivalries. The problem when they set up the NL East was that there were no rivalries amongst those teams.
The teams I hated are all in the NL Central: the Cardinals, Cubs, and Pirates. I came to hate the Pirates in 1990. The Pirates crushed my young dream of seeing the Mets in the playoffs again.
In 1990 , I rooted for the Reds in the NLCS. In 1991 and 1992, I rooted for the Braves. One of my favorite memories as a kid was this:
It's funny now to think of ever rooting for the Braves, but baseball was much different back then. It's also funny to think Barry Bonds couldn't throw out former teammate, Sid Bream. After the 1991 NLCS, the Pirates couldn't resign Bobby Bonilla allowing the Mets to get him on what would become "The Worst Team Money Can Buy."
Again, your memory is funny. When the Mets first got Bonilla, I was thrilled. You were too. You know what else is funny? If you look over his stats, he was a pretty good player on the Mets. However, any sympathy I would've had for him went out the door with 1999 poker game.
Anyway, after 1992, that was it for the Pirates. Barry Bonds would go to San Francisco, and the Pirates wouldn't have a winning team again for another 21 years. I loved every minute of it. Now, however, the Pirates are a loaded, dangerous, and likeable team.
With them it all starts with Andrew McCutchen, who is the best player in the National League. He's a CF putting up consistent All Star and Hall of Fame stats. It seems like every year, he gets unexpected help. This year that man is Jung Ho Kang, who probably is the rookie of the year.
A deep pitching staff is lead by Gerritt Cole, who is on the fringes of the Cy Young discussions. Luckily, they will miss him. Unfortunately, the Mets will throw Bartolo Colon. Also, Matt Harvey will be the only stud muffin to fm go in this series.
Right now, the Pirates are the better team. However, the Mets play well at Citi Field while the Pirates are [barely] a sub .500 team in the road. Overall, I see this series as a measuring stick rest. I hope the Mets are up for the challenge.