Is Mattingly Cursed?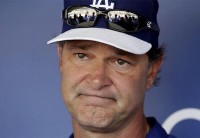 The one thing that no one associates with the Yankees is the great player that never won a ring. Famously, the Cubs have Ernie Banks. The Mets have Mike Piazza. Though not on the same tier as those two, the Yankees have Don Mattingly.
In 1981, the Yankees lost the World Series to the Dodgers. The next year, Mattingky would get called up and become the first baseman. It started the longest stretch of Yankee baseball not being in the playoffs. In 1994, the Yankees were assured a playoff spot, but then the strike happened.
Finally, in 1995, in Mattingly's last season, the Yankees would make the playoffs as the Wild Card. The Yankees would squander a 2-0 lead. They would squander a lead in the fifth and deciding game. In the 10th inning, Mattingly would hit a go-ahead RBI double. The Mariners would come back again and beat the Yankees.
The next year, Mattingly retired, and the Yankees replaced him with Tino Martinez. The Yankees would go on to win four World Series in five years. Mattingly would re-join the Yankees in 2004, which is the same year as the Red Sox overcoming an 0-3 deficit to win the 2004 ALCS, and subsequently, the World Series.
The Yankees would hire Joe Girardi over him as Joe Torre's successor. The Yankees would win the World Series again in 2009. Mattingly was a coach on the Dodgers from 2008 – 2010, when the Dodgers twice lost in the NLCS to the Phillies 4-1.
Mattingly then assumed the helm as the Dodgers manager. So far, despite having the best pitcher in the game, Clayton Kershaw, he hasn't been able to make it to the World Series. It makes you question if he's due or if he's cursed.
I hope it's the latter.