How Serious is the Cespedes MVP Talk?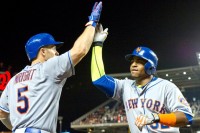 I remember Opening Day in 2006. The Mets fans entered this season with a lot of hope, more hope than they've had in a long time. Much of it was fueled by their budding young stars, Jose Reyes and David Wright.
When Wright hit a sixth inning homerun, I remember the fans starting an MVP chant. I joined in on it. It wasn't serious. It was just fun. I remember chuckling afterwards. I also remember Mike & Dog blowing a gasket over that and Billy Wagner's entrance music. I was reminded of that day when I saw this last night:
Guess who leads off the bottom of the 3rd? #Mets ??? pic.twitter.com/Kz2K2nmyGL

— New York Mets (@Mets) September 15, 2015
These fans seem to be having the same fun we did in 2006. If it's all in fun, I'm on board. If it's to show Yoenis Cespedes some love, I'm on board. If the fans are serious, you've lost me.
Look, I love things that are fun for the fans. However, if this is a real push, you've lost me. He's not the MVP of the National League or the Mets. Instead, he's an amazing story that can lead the Mets to more amazing stories in the playoffs.
Maybe then I'll agree with the MVP sentiments.