deGrominant Start to the NLDS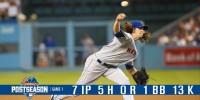 Mets fans have been waiting nine years for this game. They were treated to a special, record setting game:
.@ClaytonKersh22 & @JdeGrom19 each have 11 Ks, making this 1st #postseason game for both starters to reach feat. pic.twitter.com/6OvT1zQGQG

— MLB Stats (@MLBStats) October 10, 2015
Everyone expected a pitcher's duel, and both teams delivered. Clayton Kershaw pitched 6.2 innings allowing four hits, three earned (two were inherited runners scored), four walks, and 11 strikeouts. Jacob deGrom was better. He threw 121 pitches over seven innings. He allowed five hits, one intentional walk, and 13 strikeouts. He was Tom Seaver-esque:
.@JdeGrom19's 13 Ks tie Tom Seaver's @Mets #postseason record (1973, #NLCS Game 1). pic.twitter.com/WAB9qkhXO0

— MLB Stats (@MLBStats) October 10, 2015
This was the type of game if you have no rooting interest, you enjoy every minute of it. When you're a Mets fan, you live and die with every pitch. It's tense. It's trying. It's worth it. I actually checked with my Dad to see if his defribulator was working. I took it that since he replied it was.
Personally, I don't think I was breathing until the seventh inning. deGrom and Kershaw, though dominant, were seemingly in trouble every inning. Michael Cuddyer, and his extra shoddy defense, made sure of that.
Up until the seventh inning, the only run was from a fourth inning Daniel Murphy home run. It was a special moment. Murphy was first around for the second collapse in 2008. He's the second longest tenured position player. He fought to be an everyday player. With one swing of the bat, he showed everyone he deserved this chance.
Ironically, on a night the Mets sat Michael Conforto because of Kershaw, only the Mets lefties got hits off of Kershaw. However, the Mets batters did their job in the seventh. Lucas Duda walked. Ruben Tejada fought back from an 0-2 count to walk. After a deGrom sacrifice, Curtis Granderson battled to walk. The bases were loaded with two outs, and Mattingly panicked.
He lifted Kershaw and brought in Pedro Baez. He looked nervous. He got David Wright to a full count, and Wright delivered with a two RBI single. I screamed and woke up the house. It was worth it. My celebration was something like this:
One down. 10 to go. #LGM #Degrominant #PartyLikeIts1986 pic.twitter.com/JgilPHDLWn

— Brooklyn Cyclones (@BKCyclones) October 10, 2015
I breathed a little easier when Juan Lagares came in for Cuddyer shifting Yoenis Cespedes to left. Of course, Tyler Clippard allowed a run in the eighth giving me angina again. Terry Collins didn't let it get out of control. He brought in Jeurys Familia, who got ended the rally, and earned the four out save preserving the Mets 3-1 victory.
Overall, this night wasn't about Murphy, or Wright, or the fans who waited nine years for this moment. This was about deGrom. He has answered every call in his career. He was Rookie of the Year. He was an All Star. He earned this start, and he more than delivered. He was better than the Franchise.
The Mets are up 1-0 in the series. Later tonight, we're expecting another pitcher's duel, and the Mets are sending out the hottest pitcher in baseball. I like the Mets chances. Lets Go Mets!