deGrom Earned the Game One Start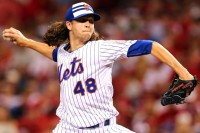 Overall, Matt Harvey may be the best pitcher on the Mets. He may have the best stuff he may have that clutch gene. However, he had not been the Mets pitcher this year. That honor goes to Jacob deGrom.
deGrom leads the Mets in ERA, strikeouts, WHIP, ERA+, WHIP, and hair. By every measure, he is the logical choice to be the Game One starter. He's the guy the Mets want on the mound to start the playoffs. He's the guy you want in Game a Five if I comes to it. However, it sounds like he's getting it by default:
Terry also said Harvey will not be making six playoff starts so don't expect a Bumgarner redux.

— Matt Ehalt (@MattEhalt) September 29, 2015
No one except the Game One NLDS starter could possibly pitch in six postseason games. The only other way it could happen is if the Mets started someone on three day's rest, which is something the Mets are probably not going to do. The effect of this statement is to say Harvey's our best pitcher, but with innings limits, we're going with deGrom.
That's not fair to deGrom, who has had a great year. He was an All Star. He leads the Mets in almost every statistical category. He's earned the Game One start.
The Mets should just come out and say that.