Murphy Wins the NLDS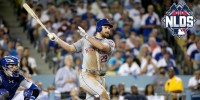 I'm still not sure how the Mets did it. Jacob deGrom had nothing. Zack Greinke had his best stuff. Everyone not named Daniel Murphy had a bad day at the plate.
However, Murphy was all it took. In the first, after a successful challenge awarding Curtis Granderson an infield single, Murphy came up with one out:
RBI triple for Murphy!! 1-0 #Mets! #LGM pic.twitter.com/vjGWpYChun

— New York Mets (@Mets) October 16, 2015
It was later changed to a double and an error, but it was a huge RBI hit nevertheless. He would be stranded.
In the bottom of the first deGrom was hit HARD. He couldn't locate at all. The 1-0 lead quickly became a 2-1 deficit. Every inning thereafter deGrom was in trouble. Deep trouble. I still don't know how he kept rope-a-doping the Dodgers, but he did. His final line was:
The numbers wont show how gutsy of a performance this was. @JdeGrom19's final line. #Mets #LGM pic.twitter.com/aRDUGVImta

— New York Mets (@Mets) October 16, 2015
The stat line is so misleading because deGrom was not good at all, and yet, he was brilliant. He summoned everything he had and somehow fought through six innings in the biggest game of his life. Sure, Game One was incredible, but I was more impressed by this. He won this game by sheer will.
He got the win because of Murphy's help. With the Mets down 2-1 in the fourth, Murphy singled. With one out, Lucas Duda worked out a walk. However, with the extreme shift and Greinke failing to cover third, Murphy stole third:
Murphy singles, steals third and comes home on a d'Arnaud sacrifice. Game tied. #Mets #LGM pic.twitter.com/Eqi6PyHeGn

— New York Mets (@Mets) October 16, 2015
He would score on a Travis d'Arnaud sac fly, but with the Mets sputtering offense, the inning would soon be over.
Murphy would come up again in the sixth, and did this:
DANIEL MURPHY!!!! #LGM pic.twitter.com/IkgK7ni53d

— New York Mets (@Mets) October 16, 2015
He gave the Mets a 3-2 lead almost single-handedly. He went 3-4 with two runs, two RBIs, a stolen base, a double, and a homer.
After deGrom's final inning, Noah Syndergaard, who had been up and down all game long (not an exaggeration) entered in the seventh. He Thortuted the Dodgers. He was seemingly the only Met to get doubles machine Justin Turner out in this series.
Jeurys Familia came in for the six out save. He zipped through the eighth. He got Jimmy Rollins to ground out to end the inning. He faced Chase Utley to start the ninth. He got perfect revenge by getting the coward to fly out to right on his way to saving this 3-2 game giving the Mets a 3-2 series win. The answer to your trivia question is Familia struck out Howie Kendrick for the final out.
This game was a microcosm of the Mets season. They struggled to score runs, but they got enough. They relied on their young pitching to take them home. It was very impressive. The Mets have now slayed the demons of 1988, 2007, and 2008.
This game was gravy as the NLCS will be. Lets Go Mets!