Mets Can't Get Direct Retribution from Utley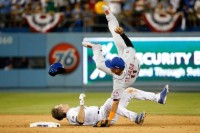 Every Mets fan is whipped into a frenzy right now over Chase Utley's dirty "slide" which broke Ruben Tejada's leg. They can't wait for him to be beaned or taken out with a retaliatory slide.
The problem is that it's not going to happen. Utley is a bench player. If he comes up in a big spot, you can't bean him. You risk the game and the series. If you do that, Utley wins. If he's not playing in the field, how can you retaliate with a take out slide? Seriously, the only way to get direct retribution from Utley is to hire Jeff Gilloly to take him out during pre-game introductions. Please note, I'm not advocating this.
Also, it's dumb to expect Matt Harvey to plunk someone. First, who do you pick? Second, if you're not injuring the player, how is this payback? Third, it will lead to warnings taking away the inside corner of the plate. Fourth, Harvey risks getting tossed. Fifth, it's not enough.
We learned that with the whole Mike Piazza–Roger Clemens–Shawn Estes debacle. Remember this happened years after the Mets plunked Tino Martinez as payback. No one was happy until the Mets could plunk Clemens directly. So if plunking someone won't suffice, what will?